Partner of Xavier Jugelé, Paris police officer killed in attack, marries him posthumously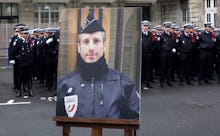 French police officer Xavier Jugelé, 37, was killed in April when an attacker opened fire on Paris' famous Champs-Élysées. On Tuesday, Jugelé's partner, Etienne Cardiles, married him in a posthumous ceremony.
Posthumous marriages are legal in France, the BBC reported, but the wedding of Cardiles and Jugelé is believed to be the country's first posthumous same-sex marriage. Former French President Francois Hollande and Anne Hidalgo, the mayor of Paris, attended the ceremony.
The man behind the April 20 attack, later idenitified as Karim Cheurfi, was killed by police as he tried to flee the scene, Newsweek reported at the time. Jugelé was killed and two other officers were wounded. ISIS claimed responsibility for the attack.
Jugelé had been an officer in Paris since 2014, the BBC reported. He had past experience with terrorism in the city — he was one of the officers dispatched to the Bataclan concert hall in November 2015, when the venue was the site of a massacre on the night of a series of coordinated attacks across Paris.
Jugelé was also an outspoked proponant of LGBTQ rights, according to the BBC. At an April memorial after his partner's death, Cardiles spokes about Jugelé's passion for France and its culture, the New York Times reported at the time.
Cardiles addressed Jugelé directly in his moving speech at the memorial.
"You went to your job at 2 p.m. in the clothes that you wore when maintaining order, of which you took so much care," Cardiles said, later closing his remarks with, "You will stay in my heart for always; I love you ... May peace prevail; let us maintain peace."