'Pokémon Go' Update: London Underground ad sparks speculation around rumored next event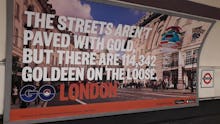 Pokémon Go has been going strong for almost a year now. In that year, we've seen multiple small events, the debut of Pokémon Gen 2 and the promise of something bigger. But the fans love to speculate, and Niantic is always more than happy to oblige with vague announcements.
Naturally, when a giant ad for the game showed up in a London Underground station, the fans were all for some idle speculation about what, if anything, Niantic is planning next.
Pokémon Go update: Advertisement in London sparks an online debate.
A member of the Silph Road Pokémon Go community alerted the game's fans to the poster, asking if players in other cities had seen any similar posters in other cities. They wondered if it might be hype for a new event, but reception on that theory was mixed.
First, as a few posters noted, the advertisement's message, "The streets aren't paved with gold, but there are 114,342 Goldeen on the loose," is a play on folk character Dick Whittington's quote, "London streets are paved with gold." Another fan argued that this is actually meant to promote a new London transit campaign, in which case it's more focused on the city than the actual game.
But why make the ad in the first place? After someone raised the point that a poster advertising there being a lot of a common Pokémon in London would be a turnoff to 99% of Pokémon Go players, another player, named Hibernica, made this comment:
"Then again, Pokémon Go players aren't exactly the target of the ad. They already have us."
This isn't a new thought for fans of the game: When fans speculated on whether Niantic would announce anything new at Apple's Worldwide Developers Conference, for example, many fans questioned whether Pokémon Go had the cultural heft a year after being released to justify it. Couple this with Niantic vice president of strategic partnerships Mathieu de Fayet's interview with O Globo, in which he said the focus was on making Pokémon Go sustainable, like the company's previous agumented reality game, Ingress.
Chances are good this London Underground poster is just an ad for the game, but if Niantic is continuing to advertise it, it seems promising that there's more content to come.
More Pokémon Go news and coverage
If you're just booting up your Pokémon Go account, check out our first impressions of the Gen 2 update. You'll also want to learn more about the Unown and new evolutionary items like the Sun Stone and more. If you're looking for a list of evolutions that weren't initially revealed by Niantic, this article is your guide.
If you're more interested in the main games, here's the latest on a possible Pokémon title on the Nintendo Switch: Pokémon Stars. And if you're itching to learn about the other mobile Nintendo games, check out our coverage of Fire Emblem Heroes and Super Mario Run.