Putin says "patriotically minded" Russians may have been a part of 2016 election cyberattacks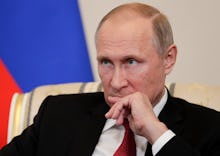 Russian President Vladimir Putin suggested on Thursday that some Russians might have played a role in the cyberattacks in the 2016 presidential election, saying that "patriotically minded" Russians may have launched the attacks to "fight against those who say bad things about Russia," the New York Times reported.
While Putin denied that Russian government officials were involved in the cyberattacks, it was the first time Putin admitted that any Russians whatsoever may well have had some sort of role in the hacks that upended the U.S. presidential election, and which are still dogging President Donald Trump and his administration.
Possibly seeking to distance himself from any U.S. intelligence reports that show Russian officials did meddle in the election, Putin also suggested that any evidence that emerges could have been fabricated.
"I can imagine that someone is doing this purposefully — building the chain of attacks so that the territory of Russian Federation appears to be the source of that attack," Putin said, according to the New York Times. "Modern technologies allow to do that kind of thing — it's rather easy to do."
Either way, Putin's admission that anyone of Russian nationality could have played a role in the cyberattacks was a reversal of comments he made on Monday, in which he echoed Trump's belief that the accusations of Russian meddling were done out of a "desire of those who lost the U.S. elections to improve their standing by accusing Russia of interfering."
Rep. Maxine Waters (D-Calif.) called the similarity between Trump and Putin's earlier dismissal of the Russian cyberattacks "pathetic!"