'League of Legends' New Skins: Patch 7.11 adds a new look for Tryndamere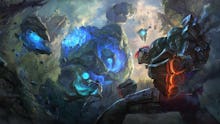 Who doesn't love new skins? No one! League of Legends fans, specifically, have an entire army to get excited about when it comes to new skins.
That's why, if you're a League of Legends fan, you have a reason to be excited during patch 7.11.
Tryndamere gets a new skin in the patch update
In the new patch, Tryndamere got a new skin called Chemtech Tryndamere. Tryndamere hasn't actually gotten a new skin in over a year, so it's about time.
If you're interested in the new skin, the patch should be live later today. Also, check out the video below if you're interested in seeing how the skin looks in action.
More gaming news and updates
Check out the latest from Mic, including our list of video games that made fun of their players, a personal essay about dealing with anxiety through Breath of the Wild, a look at the racist and sexist experiences in esports and a plea for better character customization options for black characters.