Jennifer Garner has the perfect response to 'People' magazine's "Life After Heartbreak" cover story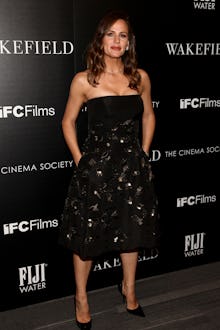 People magazine drew attention Wednesday after running a story titled "Life After Heartbreak," which documents Jennifer Garner's supposed bravery in the wake of her divorce from Ben Affleck. But Garner is not here for it. On Thursday the actress responded to the story on Facebook and was essentally like, "Why are you so obsessed with me, People?"
The People article quotes an "inside source" claiming Garner's divorce was "the most difficult decision for her." But Garner clarified in her Facebook post that she "did not pose for this cover" and "did not participate in or authorize this article."
The article goes on to call Affleck "the love of her life" and shares that "she's certainly not jumping up and down and screaming, 'I'm single!' and planning dates;" Garner's post set the record straight.
"For what it's worth: I have three wonderful kids and my family is complete," she wrote, referring to the many false pregnancy rumors that continue to haunt her.
Garner and Affleck married in 2005 after falling in love on the set of 2003's Daredevil. They announced an intention to divorce in June 2015, and filed joint divorce paperwork in April. They are currently seeking joint custody of their three children.
Garner has two high-profile films coming out: The Tribes of Palos Verdes, which she also executive-produced, and Simon vs. the Homo Sapiens Agenda, which features Jurassic Park star Nick Robinson as a gay teen who hasn't come out to his classmates. Her latest film, Wakefield, which co-stars Bryan Cranston as a man who fakes his own disappearance only to secretly observe his family from the attic, premiered May 19 in limited release.