Despite campaign vow, Trump delays moving U.S. embassy from Tel Aviv to Jerusalem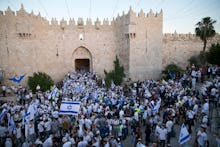 As a candidate, Donald Trump promised to make moving the U.S. embassy in Israel from Tel Aviv to Jerusalem a top priority.
The president recently indicated he's decided it's best to hold off for now.
Trump signed a waiver on Thursday to keep the embassy in place in Tel Aviv for at least another six months "in order to protect the national security interests of the United States."
That language is standard for waivers signed by Trump's precedessors under the Jerusalem Embassy Act of 1995.
Positioning the embassy in Jerusalem would tend to please Trump's conservative Jewish supporters and major donors, but not many liberals, the U.S. foreign policy establishment, the Palestinians or their Arab allies.
Trump famously committed to move the embassy to "the eternal capital of the Jewish people, Jerusalem," during an address to the American Israel Public Affairs Committee in March, 2016.
The Jerusalem Post reported Israeli Prime Minister Benjamin Netanyahu made an unsuccessful eleventh-hour play to convince the U.S. to stick to its promise of finally relocating the diplomatic offices.
Following the signing of the waiver, Netanyahu said in a statement that he found Trump's move disappointing, and that "maintaining embassies outside the capital drives peace further away by helping keep alive the Palestinian fantasy that the Jewish people and the Jewish state have no connection to Jerusalem."
White House press secretary Sean Spicer sought to head off disappointment and complaints by saying in a statement that "no one should consider this step to be in any way a retreat from the President's strong support for Israel and for the U.S.-Israel alliance."
Spicer continued:
President Trump made this decision to maximize the chances of successfully negotiating a deal between Israel and the Palestinians, fulfilling his solemn obligation to defend America's national security interests.  But, as he has repeatedly stated his intention to move the embassy, the question is not if that move happens, but only when.
Rep. Lee Zeldin (R-NY), co-chairman of the House Republican Israel Caucus, said in a Thursday statement that "Jerusalem is absolutely where our embassy belongs," being the locale of not only major religious sites but Israeli government operations.
In urging Trump to reconsider, Zeldin, one of only two Jewish Republicans currently serving in the House, went on to say "it was a credit to the president's campaign last year that he knew and was outspoken for moving the U.S. embassy as the correct path forward."
Palestinian officials applauded the waiver signing, saying Trump's move "gives peace a chance."
According to the Associated Press, the Palestinian Authority's ambassador to Washington, Hussam Zomlot, said that holding off on the move "gives peace a chance," while a spokesman for Palestinian Authority President Mahmoud Abbas said that it underscores American dedication to promoting an end to the long-standing conflict with Israel.
And J Street, a "pro-Israel, pro-peace Americans" lobbying group, hailed Trump for having heeded "the advice of veteran officials in the diplomatic and security communities" in holding off on the embassy move.
"Since the disposition of Jerusalem is a final status issue that must be decided by the parties themselves, moving the embassy could cause significant harm to U.S. credibility as a mediator in efforts to move toward a two-state peace agreement," the group said in a statement.
"Jordan and Egypt, countries that have made peace with Israel and who are eager to contribute to a reinvigorated Israeli-Palestinian peace process, have made clear their strong opposition to such a move."