Portland stabbing victim Micah Fletcher calls out "white savior complex" in response to attack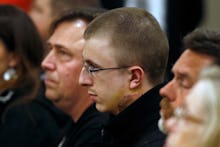 Portland stabbing survivor Micah Fletcher, 21, is asking supporters to focus their attention and offer support to the two young girls who were the initial target of white nationalist Jeremy Joseph Christian's anti-Muslim attack that left two men dead Friday.
In a video uploaded to Facebook on Wednesday, Fletcher thanked the outpouring support he has received for defending Destinee Magnum, 16, and her 17-year-old Muslim friend, who has yet to identified. He also had another message for supporters: to put their support behind the two girls who were the initial target of Christian's attack.
"We in Portland have this weird tendency to continue patterns that we've done forever, and one of them is [the] same old. just to put it bluntly, white savior complex," Fletcher said in the video. "I think it's immensely, immensely morally wrong and irresponsible how much money we have gotten as opposed to how much support, money, love, kindness that has been given to that little girl."
On Friday, Fletcher was stabbbed in the neck for trying to defend Magnum and her hijab-wearing friend from Christian and his violent anti-Muslim rant on a Portland, Oregon, light rail train. Christian fatally stabbed Army veteran Ricky Best, 53, and Reed College student Taliesin Namkai-Meche, 23, after they also attempted to intervene. Christian was arrested at the scene.
Fletcher, Best and Namkai-Meche were hailed as heroes at vigils for defending the girls. Within days of the attack, people from across the country raised more than $1 million to support the three men's medical expenses and families. However, Fletcher wants supporters to remember the girls as well.
"We need to remember that this is about those little girls," Fletcher said. "I want you to imagine that for a second, being a little girl on that MAX." He continued:
This man is screaming at you. His face is a pile of knives. His body is a gun. Everything about him is cocked, loaded and ready to kill you. There is a history here with this. You can feel that this has happened before, and the only thing that was different was the names and faces. And then a stranger, two strangers, three strangers come to your aid. They try to help you. And that pile of knives just throws itself at them. Kills them.
Magnum spoke out days after the attack, thanking the three men who supported her and her friend. Magnum also expressed guilt on how Best and Namkai-Meche were killed because of the way the girls looked, according to Fox 12 Oregon.
"They lost their lives because of me and my friend, and the way we look," Magnum, who is black, said. "I just want to say thank you to them and their family, and that I appreciate them. Without them, we probably would be dead right now."
Fletcher linked to a crowdfunding campaign for the two girls in his video's caption, urging viewers and supporters to donate.
The campaign has a goal to raise $150,000 for the girls, the proceeds of which will support needs like mental health services. Magnum's mother also said a portion of the funds will go toward purchasing a car, since she no longer feels safe letting her daughter ride Portland's public transit system.
You can watch Fletcher's Facebook video below: