8 brands whose Pride-themed merch gives back to the LGBTQ community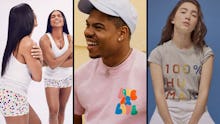 At this point, every year around June 1, brands embrace the rainbow like never before, releasing collections to honor the start of Pride month.
Now of course, it's a great opportunity for these brands. It's the perfect chance to not only add a few rainbows to a collection, or a few pointed messages, but also for these brands to donate proceeds to LGBTQ charities and organizations.
That might seem like a no-brainer thing for these brands to publicize, but plenty of brands actually don't publicize where the proceeds from these collections are going. And that's troublesome, given that maybe they're not actually donating to LGBTQ organizations at all. (If you'd an example, there's this one, which isn't so clear. )
So to highlight the brands that have come out with merch that is both stunning and supportive of LGBTQ people for Pride, we've rounded up the best 2017 Pride collections thus far
American Eagle
American Eagle, which has had a sort of rebirth with its hugely successful un-airbrushed Aerie campaigns, is going all in for Pride this year.
Its collection this year has T-shirts, boxers and hats, all of which are going for less than $20. The real important thing here though is the fact that 100% of sales are being donated the It Gets Better Project.
Converse
Converse hasn't always been completely explicit when its come to who its Pride collection is really benefitting. Just last year, Mic had its questions about whether its Pride collection actually gave back. But this year, there are no questions.
This year, Converse's giving is front-and-center, with the brand noting that all net proceeds from its extensive collection are going to the It Gets Better Project and The Happy Hippie Foundation, both of which benefit young LGBTQ people.
And when we say extensive, we mean more than 12 shoe styles, T-shirts, socks and even shoelaces, along with a customization option, too.
Dr. Martens
For Pride 2017, Dr. Martens, the shoe brand widely associated with punk rock and angsty teens of the '90s, has released a collection of boots with a message. On one boot, there appears to be graffiti written all across it, with words like "LGBT+" and "LOVE" and "UNITY." On another boot, it's a pixelated rainbow pattern, with both shoes coming with bright rainbow laces.
Beyond aesthetics here, Dr. Martens teamed up with The Trevor Project, the national nonprofit that focuses on intervention and suicide prevention for LGBTQ youth. According to a press release, each pair of boots retails for $145 and $5 will go to the organization.
Everlane
On June 5, Everlane's hugely successful 100% Human T-shirts will finally get the Pride treatment. The collection itself will feature a number of T-shirts, tank tops, enamel pins and tote bags all with "100% Human" or just "Human" scrawled across them, and some rainbow detailing, too.
But of course, that's not the most important part of this launch. Everlane is partnering up with the Human Rights Campaign, with a goal of raising $100,000 through the sale of these T-shirts.
Levi's
Drawing inspiration from the AIDS memorial quilt and the clothing worn by activists in the 1980s, Levi's Pride collection this year is utterly thorough, with jeans, shirts, pins, bandanas, socks and underwear.
This year, too, 100% of proceeds will be donated to the Harvey Milk Foundation and Stonewall Community foundation, who have been partners with Levi's.
MeUndies
With the start of Pride, the underwear company MeUndies not only launched one of its most stunning campaigns yet, but also a Pride collection that gives back. For every pair of underwear sold, MeUndies is donating one dollar to the Los Angeles LGBT Center.
"Our team is bursting with people who consider themselves part of the community, so we all felt compelled to get involved," MeUndies creative director Andrew Teague said in a previous interview with Mic. "That doesn't happen by sitting in your office thinking you can just tell people how to feel and what to buy. It happens when you engage with the world."
Nike
This is the sixth year Nike has released a Be True collection for Pride, and it continues to be stun, with limited edition kicks and rainbow spins on some of its most popular shoes.
As most years, too, the collection, which is dropping on June 5, will be giving back to a number of LGBTQ organizations, with a focus on supporting LGBTQ athletes.
"The key for us was to create something that people could unite around to show their support for LGBTQ athletes," Robert Goman, LBGT Network Leader at Nike, said in a release. "Sporting your rainbow in the gym or on a run became a way to feel like you belonged to something larger – you were connected to being 'out' or being an ally. The rainbow has and always will be incorporated into the BETRUE product in some way."
Since 2012, Nike reports that its given about $2.5 million in financial aid to LGBTQ causes.
Urban Outfitters
These past few years, Urban Outfitters has been at the center of many a scandal, but when it comes to its Pride collection this year, they got it absolutely right.
This year, the merch was shown off on a mix of young LGBTQ creatives, like dancer Harper Watters, model Torraine Futurum, activist Tyler Ford and musician Taylor Bennett.
The clothing itself is far more subtle than other Pride collections, going for pastels and statements like "Love is love," with all profits going to GLSEN, a nonprofit dedicated to improving school life for LGBTQ children.
As Pride campaigns that give back continue to launch, Mic will update this list.