How Jim Miller's season 4 'House of Cards' death plays an important role in season 5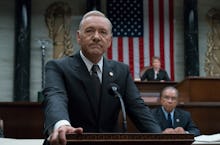 We had to wait a little longer than we were accustomed, but Netflix has finally released the new season of House of Cards. Season five of the critically acclaimed political thriller picks up essentially where things left off: in the lead-up to a presidential election and the aftermath of a domestic terrorist attack. And those getting ready to start their House of Cards binge should be prepared to hear a name from season four: Jim Miller.
If that name fails to ring any bells, do not be discouraged. After all, it has been more than 14 months since season four of House of Cards premiered on Netflix (do not forget to check out Netflix's recap!). But Jim Miller plays an extremely important role in the early narrative of House of Cards' fifth season. It is his death that Frank Underwood uses in an attempt to thrust the country into terror, hoping that fear will help him and Claire win the election.
In the final two episodes of season four, Miller, along with his wife and daughter, are part of a hostage situation, carried out in the name of terrorist Yusuf Al Ahmadi, leader of ICO (the series' version of ISIS). Frank Underwood actually allows GOP presidential candidate Will Conway to negotiate the release of the Millers, ceding to the terrorists' demands, but he eventually takes over, securing the wife and daughter's safety. Jim Miller, however, is not so lucky.
In the final scene of season four, the terrorists broadcast a video nationwide showing Miller's beheading. So, how in the world could this failure help Frank's presidency? In season five, Frank has turned his strategy to fearmongering. His essential argument is that he, and he alone, can keep America safe.
In what is an awesome cold open to the season, Frank storms into a House meeting, demands that the United States declare war on ICO, and refuses to leave the floor. The question is whether fear, and the threat of terror, is enough to get the unpopular president re-elected.
You'll have to keep watching season five to find out.
Mic has ongoing coverage of House of Cards. Please follow our main House of Cards hub here.