'Marvel vs. Capcom: Infinite' Roster Leak: X-Men noticeably absent from the superhero fighting game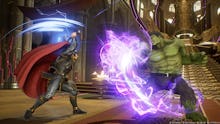 Injustice 2 is great, but I know what you're thinking: "Marvel is way better than DC. Give me a fighting game with all my favorite Marvel characters."
You're in luck, as Marvel vs. Capcom: Infinite launches this September. It brings a cast of Marvel stalwarts — with some very notable exceptions — along with a bunch Capcom video game characters.
Thanks to some intrepid leakers, we now know exactly who's in the game.
Marvel vs. Capcom: Infinite roster leak: No X-Men
The roster was leaked on NeoGAF and corroborated by Eurogamer. It's 28 fighters deep, with the only unknown being a DLC fighter from the Capcom side of things. The NeoGAF leaker posits that it's Frank West from Dead Rising, but nobody knows yet.
The roster is as follows:
• Arthur
• Chris Redfield
• Chun-Li
• Dante
• Firebrand
• Jedah
• Monster Hunter
• Morrigan
• Nemesis
• Ryu
• Spencer
• Strider Hiryu
• Mega Man X
• Ant-Man
• Captain America
• Captain Marvel
• Doctor Strange
• Gamora
• Hawkeye
• Hulk
• Iron Man
• Nova
• Rocket/Groot
• Spider-Man
• Thanos
• Thor
• Ultron
There aren't a ton of surprises in there — a character just called "Monster Hunter" is pretty funny — but the characters who got excluded are a bit disappointing. There are no X-Men in the game at all, probably because of complex licensing issues. Given the popularity of those characters, it stands to reason they would be in the game if Capcom had permission.
Overall, this isn't a huge bombshell leak. It's a pretty typical cast for a Marvel vs. Capcom game. That said, it should still be fun to duke it out when it launches Sept. 19 on PS4, Xbox One and PC.
More video game news and coverage
Check out more video game content on Mic, including which Pokémon are actually the best and why black players can never seem to get custom characters that look like them. Learn more about how blind gamers are getting in on the fun and why Injustice 2 is nerfing its female characters. See why we love Twintelle (and why we hate Twintelle) in the upcoming Arms, and don't miss our guide to dodging blue shells in the Mario Kart 8 Deluxe — you can thank us later.