Larry Summers says he never could have imagined a White House "right of Exxon" on climate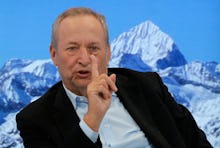 During an appearance on CNBC's Squawk Box on Thursday, Former Treasury Secretary Larry Summers said he never could have imagined a presidential administration that stands "way to the right of Exxon on a fossil fuel issue."
Summers, an economist who served as treasury secretary under President Bill Clinton, was referring to President Donald Trump's reportedly imminent decision to remove the United States from the landmark Paris climate agreement in spite of a growing chorus of business leaders, academics and diplomats urging him to remain party to the pact.
"When Exxon thinks a policy to contain carbon emissions is a good idea, it is hard to believe that it is not actually a good idea," he said.
In walking away from the Paris deal, the U.S. would join just two other nations — Syria and Nicaragua — who have refused to sign onto the agreement to curb global greenhouse gas emissions.
"How can it be the right thing for the United States to create a world where there are two clubs: everybody else and the United States, Syria, and Nicaragua?" Summers asked.
Exxon Mobil Corp., one of the world's largest oil producers, doubled down on its support for the Paris agreement on the grounds that the deal offers the U.S. a vantage point from which to influence global efforts to reduce fuel emissions.
"Energy needs are a function of population and living standards," Exxon Chief Executive Officer Darren Woods said at the company's annual meeting on Jan. 1. "When it comes to policy, the goal should be to reduce emissions at the lowest cost to society."
Current Secretary of State Rex Tillerson, who formerly held Woods' position at Exxon, has also publicly advocated for remaining a part of the agreement.
On Thursday afternoon, Trump is expected to announce that the U.S. will withdraw from the deal.