OnePlus 5 phone specs, images, features and everything you need to know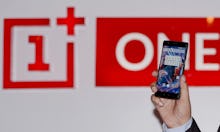 OnePlus 5 is reportedly being released on June 15. The Android smartphone's alleged release date is courtesy of an unverified leak on Chinese social networking site Weibo.
While the official debut of the device is still pending, the company has revealed bits and pieces of information about the upcoming handset. According to OnePlus co-founder and CEO Pete Lau, the device will be "the thinnest flagship." The current model, the OnePlus 3T, is 7.4mm thick.
The main camera for the OnePlus 5 has been created in partnership with DxOMark and will reportedly feature a dual-camera on the rear. OnePlus has already taken to Twitter to show off it's supposedly superior camera.
The smartphone will still have the traditional 3.5mm headphone jack. And it'll be unlike the Samsung Galaxy S8 or the rumored iPhone 8, as it won't have an all-screen design. Instead, it will have a 5.5-inch display with Full HD or QHD resolution.
The fingerprint sensor will be in the front of the device and the smartphone will be powered by Qualcomm's Snapdragon 835. It'll also pack a 3,600 mAh battery, which will reportedly charge 25% faster than the OnePlus 3T.
"When we began developing the OnePlus 5, we envisioned a smartphone with flawlessly smooth performance," Lau said when announcing the device will come equipped with the high-end processor from Qualcomm.