'Middle-earth: Shadow of War' Release Date: Launch delayed to Oct., more info coming at E3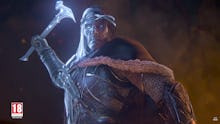 If you were counting down the days until Middle-earth: Shadow of War's release date, you're going to have to add some more time to that countdown. Instead of releasing in August, Warner Bros. just announced the game's release date has been pushed back to October 10.
Middle-earth: Shadow of War release date delayed
Here's what Warner Bros. had to say about the game's delay in a blog post:
As with Middle-earth: Shadow of Mordor, Monolith is committed to delivering the highest quality experience. In order to do this, we have made the difficult decision to move our launch date to ensure that Middle-earth: Shadow of War will deliver on that promise.
Warner Bros. didn't offer any details on exactly what was holding up the game's development, but it's likely the team just needed a bit more time to make sure things are as polished as they need to be.
E3 begins on June 13, so you won't have to wait much longer to get another look at Middle-earth: Shadow of War. When Shadow of War releases, it'll be available for PS4, Xbox One and PC.
More gaming news and updates
Check out the latest from Mic, including our list of video games that made fun of their players, a personal essay about dealing with anxiety through Breath of the Wild, a look at the racist and sexist experiences in esports and a plea for better character customization options for black characters.