'Splatoon 2' Voice Chat: Special headset announced ahead of release date — and it's not great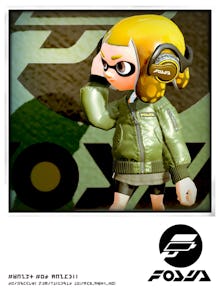 So, here's the thing: Splatoon 2's release date is about a month away, but Nintendo's voice chat system still doesn't make much sense. Most game consoles let you hear the game's sounds and your friends talking in one audio stream — but the big N wants Nintendo Switch owners to download a smartphone app for voice chat.
The problem: If you're listening to your phone, how will you hear the game?
Splatoon 2 release date: A squid-looking adapter will be necessary for proper audio
The solution: a recently announced headset by Hori. For Splatoon 2's release, the company will offer up a microphone-equipped headset with an adapter. One aux cord goes inside your smartphone, the other into the Switch. Both split up audio into the headphones you're wearing, because for some reason, the Switch won't do that by itself.
While the headset is a solid solution for Nintendo's voice chat limitation, it does come with some downsides. According to Kotaku, the cable is less than 20 inches long, which means you'll need to be sitting close to your Switch if you want to hear both — even if it's in the dock.
Plus, this is more complicated than it should be. Playstation and Xbox have shown us you can very easily put a headphone jack on the controller and receive wireless audio. Even with the Hori solution, your ears will need to be tethered to your dock. Let's hope Nintendo can muster up the courage to put a headphone jack on its wireless controllers.
Hori's headset will become available on Splatoon 2's release date of July 21, at a cost of 3,480 yen (roughly $31).
More gaming news and coverage
Check out more video game content on Mic, including which Pokémon are actually the best and why black players can never seem to get custom characters that look like them. Learn more about how blind gamers are getting in on the fun and that Injustice 2 appears to be nerfing its female characters. See why we love Twintelle (and why we hate Twintelle) in the upcoming Arms, and don't miss our guide to dodging blue shells in the Mario Kart 8 Deluxe — you can thank us later.