United States will withdraw from Paris climate agreement, Trump announces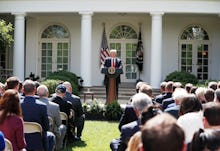 The United States will withdraw from the historic Paris climate agreement, President Donald Trump announced Thursday, but will immediately begin negotiating a "deal that's fair."
During an address delivered in the White House Rose Garden, Trump confirmed early reports that the United States would end its commitment to the 2015 pact among 195 nations to reduce greenhouse gas emissions and curb global warming.
"In order to fulfill my solemn duty to protect America and its citizens, the United States will withdraw from the Paris climate accord," Trump said, adding that the U.S. would immediately begin negotiations to re-enter the Paris accord or an entirely new agreement "on terms that are fair to the U.S."
At the G7 summit in Italy last week, Trump ignited speculation that he planned to abandon the landmark deal when he refused to affirm his commitment to a global push to combat manmade climate change.
The United States accounts for the second-highest share of global carbon emissions, according to data compiled by the Department of Energy, beat out only by China. But while the United States is poised to renege on its Paris commitments, China — along with Canada, Europe and other nations — has doubled down on its pledge to reduce emissions.
"China will continue to uphold its commitments to the Paris climate agreement," Premier Li Keqiang of China said Thursday in Berlin. "Step by step, and very arduously, together with other countries, we will work toward the goals set [in 2015]."
Trump, who once said the concept of climate change was devised "by and for the Chinese in order to make U.S. manufacturing noncompetitive," had pledged to "cancel" the Paris agreement during his first 100 days of office.
In a statement released during Trump's Thursday announcement, former President Barack Obama said that in departing from the historic deal, America would be joining a "small handful of nations that reject the future."
"Even in the absence of American leadership... I'm confident that our states, cities and businesses will step up and do even more to lead the way, and help protect for future generations the one planet we've got," the statement read.
The United States joins only two other nations — Nicaragua and Syria — in declining to participate in the global pledge.
This story is breaking and will be updated.