'Ebony' magazine is under fire for not paying its freelancers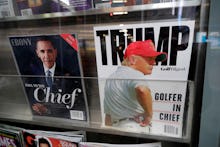 More than a dozen freelance journalists and illustrators are speaking out against Ebony Magazine for not paying them for their work.
A social media campaign to call out Ebony first launched in April, when freelancer Cat DiStasio tweeted that she was owed $2,000 and had not yet been paid.
That tweet prompted other freelance writers and illustrators to share their stories, sparking the use of the hashtag #EbonyOwes to demand payment from the magazine.
Amid the backlash, the magazine issued a statement promising to "honor our commitment to our partners," and the company paid DiStasio what she was owed.
The campaign gained momentum again in May after even more freelancers came forward to say they still hadn't received payment.
Some of them have accused Ebony of blocking them on Twitter following their complaints.
A request for comment left with Ebony's parent company, Johnson Publishing, was not returned.
Several freelance journalists have since connected with the National Writers Union for help. Larry Goldbetter, the president of the union, told Mic in an interview that he was representing at least a dozen freelancers and was expecting to have even more come on board.
Goldbetter, who said he has been in contact with Ebony representatives, is hoping to get around $30,000 total sent to the freelancers who are owed money.
"Right now we're pretty optimistic," Goldbetter said. "I'm hoping we can get this resolved within the next couple of weeks."
Ebony, which launched in 1945 as a magazine by and for black Americans, has faced many of the disruptions that the rest of the magazine industry has faced amid a challenging media landscape, including company restructuring, layoffs and ownership changes. The magazine recently laid off almost a third of its staff following the abrupt resignation of its CEO and a consolidation of editorial operations with Jet magazine.
But Ebony remains an iconic institution, and some freelancers said they hesitated to speak out because of their loyalty to the title.
"I grew up dreaming of working for Ebony," Tiffany Walden, a freelance journalist and co-founder of the Chicago-based digital media site the Triibe, said. Walden is still waiting for Ebony to pay her a portion of what she is owed. "My grandmother had Ebony magazine in the house. I grew up seeing it on the coffee table. … That and Vibe Magazine were in the top of the list of publications to one day write for."
Liz Dwyer, another freelancer who is seeking payment for three stories she wrote for the magazine's February issue, said she felt "protective" of Ebony and did not initially speak up.
"There's a part of me that was feeling protective of Ebony and the legacy of historical black publications, and publications that have for generations been a place where you could see stories about people like you — where every month there's a cover that looks like you and your family, your friends, people in your neighborhood," Dwyer said. "...It's just tough — the sort of tension of knowing that there are so few publications out there that really do represent the black experience in a positive way, and you don't want to see them looking as not professional to the rest of the media."
The issue has sparked conversations about how freelance journalists are treated in the industry, and Goldbetter said the situation is not uncommon.
"It certainly is not just Ebony," Goldbetter said. "It's been very difficult for people. In a certain sense, it's much easier to be published than ever before, and on the other hand its much harder to make a living out of it."