Did Venus Williams accidentally reveal the sex of Serena's baby? Not quite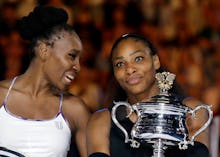 It sure seemed like Venus Williams spilled the beans about the sex of sister Serena's baby this week. But it turns out she didn't, as her famous sister explained on Instagram Thursday — the tennis stars just default to calling the baby a "her."
Speaking to reporters after her second-round French Open win, Venus Williams answered a question about what Serena's baby would call her by joking, "She's going to call me 'favorite aunt,'" ESPN reported. The comment led many to think that Venus had accidentally revealed the sex of the baby.
But, as Serena explained in a note posted to Instagram on Thursday, the sex of her baby is still a suprise. She and her sisters have just been referring to the baby as a "she" out of habit. "I did not grow up with any brothers, only sisters and we all say 'she' more than 'he,'" Serena wrote.
The apparent slipup seemed like a repeat of Serena Williams' "accidental" pregnancy announcement from back in April — she posted a Snapchat with the caption "20 weeks," which many took as an announcement that she and her fiancé, Reddit co-founder Alexis Ohanian, were having a baby.
But she quickly deleted the Snapchat and later said she hadn't meant to post it. Her spokesperson released an official statement announcing Serena's pregnancy later that same day.
So the sex of the baby is still a surprise — for now. But no matter who the new family member grows up to be, with a mom like Serena Williams and an aunt like Venus, she or he will have plenty of strong female role models to look up to.