Who is Nigel Farage? How a controversial UK politician ended up in the FBI's Russia investigation.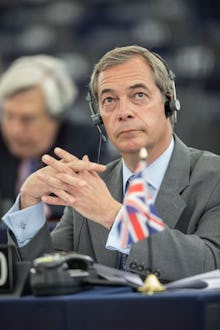 A report in the Guardian stated that Nigele Farage, former leader of the U.K. Independence Party, is a "person of interest" in the FBI's investigation between possible links between Russia and President Donald Trump.
Sources told the Guardian that Farage's connections to individuals in the Trump campaign and people connected with WikiLeaks founder Julian Assange are the reason for the FBI's interest in him. Farage notably visited Julian Assange in March.
Farage is not accused of wrongdoing, and the controversial British politician called "fake news" on the reporting.
"I consider it extremely doubtful that I could be a person of interest to the FBI, as I have no connections to Russia," Farage said of the Guardian report.
The New York Daily News took issue with Farage's statement, pointing out that he's appeared on Russian state-sponsored television on at least three occasions. A spokesperson for Farage refused to confirm whether or not Farage was paid for these appearances.
Farage and Trump have shown mutual admiration for each other, with Farage publicly supporting the president and Trump suggesting Farage should be ambassador to the U.S.
Farage led UKIP to unprecedented success and was a prominent Brexit voice
Farage became leader of UKIP in 2006 and has supported Britain's withdrawal from the EU since at least 1999.
The right-wing populist party had surging successes under Farage, gaining its first MPs in 2014 and becoming the first party outside the major Labour and Conservative parties to win a national election since 1910.
The UKIP leader framed the Brexit vote in terms of British independence, calling the decision to leave the EU a "victory for real people, a victory for ordinary people, a victory for decent people."
In an impassioned speech railing against the EU, Farage said:
I hope this victory brings down this failed project and leads us to a Europe of sovereign nation states, trading together, being friends together, cooperating together, and let's get rid of the flag, the anthem, Brussels, and all that has gone wrong. Let June 23 go down in our history as our independence day.
After the Brexit vote, Farage abruptly resigned as the leader of UKIP, stating he'd "done his bit" for the country and wanted his "life back."
Trump supported Brexit, and Farage became a figure on the Trump trail
The nationalistic Brexit movement received support from Trump during his presidential campaign. During a trip to Scotland, Trump used a press conference to draw parallels between support for his campaign and Brexit.
Farage attended the July 2016 GOP convention, saying during a breakfast event that Trump was "prepared to talk about issues that perhaps other people find a bit awkward, a bit uncomfortable." He stopped short of endorsing Trump during the primaries, claiming Trump's style made him "wince."
By August, Farage had become a more regular figure in the Trump campaign, making an unusual appearance in Mississippi at a Trump rally to rail against Hillary Clinton. "I will say this: If I was an American citizen, I wouldn't vote for Hillary Clinton if you paid me," he said.
The Guardian described the American crowd as "slightly puzzled" by the British political figure's presence.
In January, an unnamed memeber of the Trump team told press that Farage would become an "unofficial adviser" to the incoming president.
While little was heard about Farage during the early months of the Trump presidency, the Guardian report has thrust him back into the spotlight. Bug Farage is not shying away from the renewed attention. On Thursday, he went on Fox News to call Clinton "sad and pathetic," reiterating that he's glad she lost.