Will 'Wonder Woman' feature a post-credits scene? Here's what we know about the DC film's ending.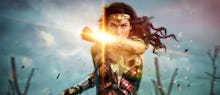 Over 75 years after her first comic book appearance, Wonder Woman is finally making her live-action solo film debut. Starring Gal Gadot in the title role, Wonder Woman will be released in theaters nationwide on Friday. The film, which is directed by Patty Jenkins, is already making waves with critics, holding an oustanding 92% on Rotten Tomatoes.
Lifelong fans of Wonder Woman, and those that fell in love with Gadot's performance in Batman v Superman, will likely be packing theaters this weekend to see the heroine's solo debut. But once the film ends, will there be an exciting tag? Unfortunately no, Wonder Woman does not contain a post-credits scene.
Wonder Woman producer Charles Roven recently addressed the lack of a final tease in a conversation with Cinema Blend. "I'm not going to say we'd never do one. ... There was one in Suicide Squad," Roven explained. "But I don't think that we want to feel that we're forced to do something just because we didn't in the past."
This news may be disappointing to comic book fans who have become accustomed to Marvel's use of a post-credits tag to tease future movies. For example: It was in the post-credit scene to the very first Iron Man that Marvel initially teased The Avengers. But it should also not come as much of a surprise that Wonder Woman will not feature a tease following the credits.
So far, Suicide Squad is the only film in the DC Extended Universe to feature a post-credits scene. In that film, Ben Affleck's Bruce Wayne meets with Viola Davis' Amanda Waller to retrieve files on potential Justice League recruits. Prior DCEU films Man of Steel and Batman v Superman opted not to feature a similar scene.
Even before Warner Bros. embarked on its cinematic universe, DC films rarely featured any kind of a tag after the credits. None of Christopher Nolan's acclaimed Dark Knight films contained a tag, and neither did Brian Singer's Superman Returns.
While a post-credits scene could be used to further excitement for a potential Wonder Woman sequel, or more likely November's Justice League, the fact of the matter is that those films will generate plenty of hype on their own. And post-credits scene or not, it sounds like Wonder Woman is a triumphent solo debut for the most popular heroine of all time.
Wonder Woman will be released in theaters nationwide on Friday.
Mic has ongoing coverage of Wonder Woman. Please follow our main Wonder Woman hub here.