Did Jeff Sessions commit perjury? Attorney general faces new scrutiny over Russia ambassador meeting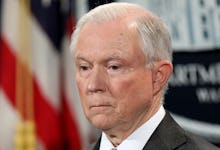 Attorney General Jeff Sessions came under fire in March when it was revealed that he had talked with Russian Ambassador Sergey Kislyak twice during the 2016 campaign — despite saying under oath at his confirmation hearing that he had not.
Now, it's being reported that Congress is investigating a possible third meeting between Sessions and Kislyak — and that Democratic senators had asked former FBI Director James Comey to investigate President Donald Trump's attorney general for possible perjury.
But would Sessions' failure to disclose his contacts with Kislyak really constitute perjury?
It's hard to say.
According to federal law, a person has committed perjury when, under oath, they "willfully and contrary to such oath state or subscribe any material matter which [they do] not believe to be true." Additionally, those in the "jurisdiction of the executive, legislative or judicial branch" are barred from "knowingly and willfully" making false statements or concealing or falsifying a "material fact."
Violating those federal laws can carry prison sentences of up to five years and eight years, respectively.
Senators Patrick Leahy (D-Vt.) and Al Franken (D-Minn.) on Thursday revealed that they had sent a letter to Comey on March 20 asking that he investigate whether Sessions broke any laws, writing that his "lack of candor" in his Senate testimony "could be construed as perjury."
"Attorney General Sessions' written testimony to Senator Leahy appears to be discernibly false," the senators wrote. "His testimony to Senator Franken also appears to be unequivocally false."
But Saikrishna Prakash, the James Monroe distinguished professor of law at University of Virginia, says that proving perjury is "extremely difficult."
"The difficulty is the mental state," Prakash told Mic. "You have to prove that the person 'willfully' knew that the statement made was false."
As Slate pointed out in March, that's not so easy to do in Sessions' case. "A plausible case for perjury can be mounted only if there is no room to believe that Sessions thought he was being honest," Slate reported, and it would seem that Sessions left himself enough wiggle room.
Still, CNN's reports on Sessions Thursday add another twist to the ongoing investigations into the Trump campaign's possible ties to Russia, which the president has repeatedly dismissed as a "witch hunt."
The possible third discussion between Sessions and Kislyak may have occurred in April 2016 at the Mayflower Hotel in Washington, D.C., where Trump was giving a foreign policy speech.
CNN reports that Sessions and Kislyak attended a "small VIP reception" before the April 27, 2016 address, in which then-candidate Trump said that "we desire to live peacefully and in friendship with Russia and China" in spite of "serious differences."
In a statement to CNN, a Justice Department spokesperson said Sessions did not have "any private or side conversations with any Russian officials at the Mayflower Hotel."