National Donut Day 2017: How to get free donuts from Dunkin, Krispy Kreme and other shops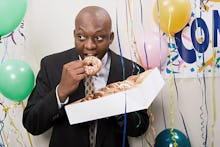 Ever notice how not every national food day comes with free food? For instance, you are likely to be met with blank stares if you ask for free mac n' cheese on National Mac N' Cheese Day from your neighborhood diner. Ditto your local pizzeria on National Cheese Pizza Day.
National Donut Day, however, won't let you down. Across the country, donut shops both local and national are offering up delicious free glazed treats. Why?
One possible reason: The food holiday is actually more legit than many other national food "days" because it has a bit of history behind it. National Donut Day was started in 1938 in Chicago to honor The Salvation Army's donut girls, who had served doughnuts to soldiers during World War I.
The day was also seen as a way to raise funds and bring awareness to the Salvation Army's social service programs during the Great Depression. Celebrated the first Friday of June every year, the "holiday" is especially poignant in 2017 as it is the 100th anniversary of America's entry into the war.
Ready to enjoy? Here are all the spots we know about where you can go on Friday to get these sweet rings of goodness — free.
National or regional chains giving away free donuts:
Dunkin' Donuts:  Buy any drink and get one free doughnut.
Krispy Kreme: One free doughnut of your choice.
Salvation Army: Free donuts in multiple cities including San Francisco, Portland and Indianapolis.
Tim Hortons: Buy a coffee, mention National Donut Day, and you'll get a free donut.
Cumberland Farms: Free donut with drink purchase until 10 a.m.
Duck Donuts: Free donut with purchase, and all receipts will feature an exclusive BOGO coupon for a "Buy One Get One Free 1/2 Dozen" redeemable Monday through Wednesday until Aug. 31.
LaMar's: Free donut with this "golden ticket."
Fractured Prune:  Free OC Sand donut (honey glaze + cinnamon sugar).
Local donut shops with freebies and deals:
Boston
Blackbird: Free German chocolate cake donuts.
Chicago
Stan's Donuts: Free donut with purchase.
Charleston, S.C.
Nana's Donuts: Free donuts to current and former service members.
Glazed Gourmet: $1 donuts all day.
Houston
Shipley's: One free donut.
Muncie, Indiana
Concannon's: One free donut.
New Jersey
Glaze: One free donut.
New York City
Donut Plant: Free carnival sprinkles mini cake donut.
Entenmann's: The donut-makers are handing out freebies in New York City's Times Square on Friday. You can also enter a contest to win free Entenmann's for a year.
Underwest: Free mini donut.
Washington, D.C.
Sugar Shack: Locations in Alexandria and Arlington are giving away free donuts on Friday to anyone wearing a Sugar Shack T-shirt, and also purchases come with a Donuts4Good gift card, which awards its holder with a free donut.
Sign up for The Payoff — your weekly crash course on how to live your best financial life. Additionally, for all your burning money questions, check out Mic's credit, savings, career, investing and health care hubs for more information — that pays off.