'Sense8' canceled by Netflix after two seasons, cast reacts to the news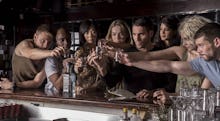 Netflix confirmed in a press release Thursday that its acclaimed original series Sense8 will not return for a third season. The drama from Lana and Lily Wachowski drew positive reviews in its second season — despite obscuring its central story — but racked up production fees with its continents-spanning shooting schedule.
Cindy Holland, VP of Netflix original content, said in a statement:
After 23 episodes, 16 cities and 13 countries, the story of the 'Sense8' cluster is coming to an end. It is everything we and the fans dreamed it would be: bold, emotional, stunning, kick ass, and outright unforgettable. Never has there been a more truly global show with an equally diverse and international cast and crew, which is only mirrored by the connected community of deeply passionate fans all around the world. We thank Lana, Lilly, Joe and Grant for their vision, and the entire cast and crew for their craftsmanship and commitment.
The hashtag #RenewSense8 started trending Tuesday after Sense8 star Brian J. Smith encouraged fans on Twitter to "start making some noise" about getting a season 3.
After news broke, cast members soon expressed their sadness and thanked their fans over Twitter.
To lessen the blow, the official Sense8 Twitter account left fans with a touching goodbye post Thursday.
Netflix's decision came a week after the streaming juggernaut canceled The Get Down, an ambitious, similarly-expensive music drama from Baz Luhrmann. Other canceled Netflix series include Marco Polo, Lilyhammer, Hemlock Grove and Bloodline.
For those mourning the loss of Sense8, Mic has ongoing coverage of the show. Check out our main Sense8 hub here.