When is Arcade Fire's 'Everything Now' coming out?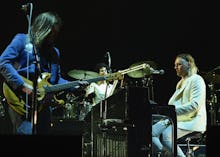 With a string of mysterious social media messages Wednesday and Thursday, Arcade Fire has confirmed its new album, Everything Now, has a mid-summer release date. The follow-up to 2013's Reflektor will drop on July 28. Arcade Fire also released an official video for their title track "Everything Now" Thursday afternoon. Check out the visual below.
On Wednesday, the group's Twitter account sent out "Stay tuned for Infinite Content," alerting fans that something new would be on the way. Later, the group tweeted a link to a website designed like a retro-1990s desktop computer. On the page, there are links to pre-order digital, vinyl, CD, and cassette versions of Arcade Fire's album.
The rock band signed a new record deal with Columbia Records, Variety reported Thursday. The imprint will house their next two albums.
Arcade Fire will hit the road for their North American "Infinite Content" tour beginning Sept. 5, in Quebec City, Quebec, and ending Nov. 3 in Toronto. Their shows will be joined by an array of special guests along the trek, including Wolf Parade, Preservation Hall Jazz Band, Phantogram, Angel Olsen, Broken Social Scene, Preservation Hall Jazz Band and Grandmaster Flash.
In January, the group resurfaced with its first track in four years "I Give You Power" a political-leaning offering in the wake of the election of President Donald Trump. Proceeds from the song were donated to the ACLU.
"It's never been more important that we stick together & take care of each other. Love, Mavis Staples and Arcade Fire," their account tweeted.
Mic has ongoing Arcade Fire coverage. Please follow our main Arcade Fire hub here.