The future of a more inclusive fashion industry is being cultivated not in NYC — but in Georgia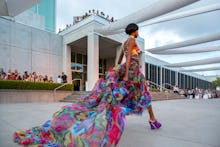 While inclusivity in the fashion industry remains a somewhat perplexing reality, one nonprofit college in Georgia is helping to breed the next generation of fashion designers, one whose ideals are shaped around celebrating diversity.
The Savannah College of Art & Design, founded in 1978, now operates four campuses: two in Georgia (Savannah and Atlanta), one in Hong Kong and another in Lacoste, France, each offering their some 13,000 currently enrolled students the opportunity to earn degrees in everything from fashion design to luxury management.
"SCAD students converse with top critics, designers, buyers and thought leaders — Francisco Costa, Linda Fargo, Imran Ahmed, to name a few — while they are still studying, so crossing that bridge from academia into professional life is natural and straightforward for them," SCAD's president and founder Paula Wallace said in an interview.
Further setting SCAD apart — and helping place it among the top five graduate fashion programs in the U.S. for 2015 — is the school's willingness to embrace the ever-evolving industry, like adding jewelry degrees, offering next-generation pattern design software and building out their very own on-campus museum.
Additionally, the school offers seniors the chance to create a final collection showcased in a runway show at the end of the year.
"This generation of SCAD students have been informed and influenced by social media and the accessibility to global design and their own personal experiences," Carmela Spinelli, fashion historian and SCAD recruitment specialist, said in an interview.
She continued:
Their collections reflect the issues they face socially, politically, environmentally, economically. They are exploring the balance of technology in fashion with the artisanal in fashion.
They are fearless in their interpretations as they enter an industry that is experiencing a seismic shift, they are the future of fashion's new paradigm and will define it as such: the focus on individual pieces, pushing the boundaries of aesthetics and materials for a sustainable world. My ideas of the future of fashion are enlightened by their spirit of cause.
"Our students have taught me to be confident while always listening even to the slightest whispers; to be respectful but own and express the power of your ideas; to embrace professionalism," Wallace said.
Below, we take a look at 13 of the school's graduating senior's collections, the inspiration behind them and what's ahead.
Abi Lierheimer
Age: 22
Major: Fashion Design
Inspiration: "The collection is called 'Thrive,' meant to inspire success in all people no matter the circumstance they're given in life. Thrive is a blend of American luxury and sport with Asian influence inspired by my adoption from Hangzhou at 9 months old, but growing up in Colorado. The collection can be worn as individual garments styled for everyday looks. Each individual garment within the looks is easily accessible and very wearable. For example, a woman could buy just the silk dress, the hand knit sweater or the coat and wear them on their own or styled with other pieces. Everything can me mixed and matched and is wearable for everyday looks."
What's next: "I've accepted a research fellowship with Open Style Lab 2017, sponsored by Parsons and MIT. This program is in collaboration with engineers and occupational therapists, where we design clothing for people with disabilities. I'm also starting on the Women's RTW team at Coach in NYC."
Amira Dejanae' Johnson
Age: 21
Major: Fashion Design
Inspiration: "'Suffocation' is the name of my collection, because as a whole I feel as if we are suffocating on sin, lies and running from the truth. I'm here to make bold statements. The collection is purely for both men and women, which will be created in a way where the clothes are not flamboyant for a man and not too masculine for a woman, for my line will be unisex. The world needs another designer, because many have forgotten what true designing from a fashion designer really is."
What's next: TBD
Arielle Arnold
Age: 22
Major: Fashion Design
Inspiration: "My collection is about the recent passing of my father and my interpretation of the pain he experienced in his passing, while also channeling my immeasurable pain in losing him. The Collection itself is named after my father's favorite song 'In the Still of the Night,' a song in which he yearned to have played at his funeral. Unfortunately this didn't happen, so this is my way of giving that to him. This is my way of making beauty out of all of the pain experienced. Certain looks in my collection can be broken down to pieces that can be worn to more casual, everyday events, while others are more suited for editorial shoots or being donned on the red carpet a fearless gal."
What's next: "Upon graduation, I'll be moving to NYC and working with the Ready to Wear department at Marc Jacobs International."
Charles Ams
Age: 22
Major: Fashion Design, Menswear
Inspiration: "My collection is inspired by a theory behind a warfare that existed on planet Mars leaving citizens with limited resource. The fabrics chosen are intended to protect and shield the wearer as they are medium and heavyweights including, leather, selvedge denim, linen and cotton. The garments are hand painting with acrylic paints, varnishes and waxes, for added strength and stiffness. Method of stapling seams and scar stitching break traditional sewing practice. The use of heavy duty metal zippers and metal trims help accent the darkly colored clothing. Paint and coatings are applied in certain areas of stress to create an already distressed look. The garments are then sanded down to add a sense of wear and grunge."
What's next: "I am headed to Graduate Fashion Week in London on June 4th to represent SCAD Savannah and show my collection during the International Catwalk Show. I am keeping my options open at the moment until the conclusion of the incredible exhibition, but am striving to work in Los Angeles or the U.K."
Emily Okafor
Age: 24
Major: MFA Fashion
Inspiration: "I was really inspired by sculptural artist Paige Bradley's Expansion series and wanted to base my design concept on her work. I wanted to mimic cracks similar to those seen when a shell of an egg is cracked when broken. One way I did that was to needle-punch merino wool roving onto neoprene and Italian spacer mesh to create a visual cracking effect. I needle punched strips of wool roving to create the cracked detail. I also placed that in random areas in order for it to look more organic. I also wanted to add an additional element to the collection so I incorporated fringe. This fringe was hand-dyed by layer only half way down and wool roving was then needle punched on top of that in order to create a seamless transition."
What's next: "After graduation, I hope to move to New York City and work for a modern, contemporary fashion designer. If I could, I would love to work for Iris Van Herpen. While doing that, on the side, I would like to slowly start developing my very own fashion brand."
Estefania Alvarez
Age: 24
Major: Fashion Design (with a focus in fibers)
Inspiration: "My senior collection MAHARANI, which refers to the female ruler or queen in India, aims to focus on the lavish and delicate nature of Indian woman, who represent harmony among chaos. MAHARANI, empowers woman by adopting design elements from Indian royal architecture, wardrobes and jewelry, as well, as different textile manipulations that were implemented in my design process. MAHARANI recalls the past, and recreates the future in a powerful contrast of man-made, crafted and technical textures that give originality to each one of my styles therefore defining them as statement pieces."
What's next: "I would like to work for a small fashion brand or an emerging designer in for the first couple of years in order to learn and have an overall view of the fashion industry in the United States."
Jasmine Lam
Age: 23
Major: Fashion Design
Inspiration: "Dont'Look is a circus-inspired unisex collection that portrays dark and quirky feel along with Chinese aesthetics. The idea is to create something that is beautiful and terrifying at the same time and bring a message to the viewer that it is all about their perspectives whether something looks good to them or not. Taking terrifying images from an original photoshoot and transforming them into digital prints with a kaleidoscope effect, the designer purposely attempting to shock the viewer with perceptual illusion. There are a lot of textures and volume in the garments throughout the collection, including the use of box pleats and ruffles, laminated film bonded onto surfaces of the printed fabric."
What's next: "I hope to work in different companies to further develop myself as a designer before starting my own label. My goal is to create my own brand within the next ten years."
Jordan Ewing
Age: 23
Major: Fashion Design, Bridal
Inspiration: "My bridal collection was inspired by the single word, Monachopsis. This term means the subtle, but persistent, feeling of out of place. In my collection, you can see Monachopsis at work with the manipulation of horse hair in unpredictable places. The Hanna cape, named after my grandmother who recently passed away, is my favorite piece. Embellished with a rose crystal on the back, it was designed to be versatile." 
What's next: "Upon graduation, I would like to further my experience in the fashion industry, focusing on bridal."
LaMara McGriggs
Age: 24
Major: Fashion Designer
Inspiration: "My senior collection is based on an African artist known as ''El Anataui.' He is known for using recyclable items such as bottle caps to create massive sculpture. I translated his artwork into a custom print and utilized acrylic laser-cut shapes to express his work technique. I used synthetic fabrics like neoprene to display my print. The acrylics were used as a fabric manipulation that were cut into shapes and pieced together with plastic rings. These manipulations were used a fabric and an accessory."
What's next: "Graduation is near and I would like to have a job or internship in progress. I am striving for the best and I am keeping my options open with opportunities that will take me far."
Lottie Bertello
Age: 23
Major: Fashion Design
Inspiration: "'Sobre Hielo' is a A/W 18 RTW collection inspired by a series of road trips through the Canadian Rocky mountains during the winter time, while exploring how perspective is heavily influenced by the state of ones mind. Exhaustion, vibrancy, fatigue — all contradicting but very real emotions triggered by the various stages of the trip. 'Sobre Hielo' also dissects the feeling of seeing snow for the very first time, which completely altered a previously familiar environment. Even though the collection is mostly comprised of ready to wear pieces, I employed several evening wear construction techniques in order to get such voluminous shapes. All the pieces in the collection are meant to be mixed and matched with each other, allowing the customer to style them in a way that fits their personal aesthetic."
What's next: "After graduation I will be moving to Los Angeles for the summer months to work at VINCE in the menswear department. Even though my work has always been directed toward womenswear, I'm really interested in working in menswear, especially after experiencing it first and at Banana Republic last summer."
Tiffany Nunes
Age: 21
Major: Fashion Design
Inspiration: "THE IDENTÏTY PRØJECT, a genderless thesis research piece, is an ode to the struggles experienced in the realization of one's true identity. These pieces are statements walking. The story ultimately fights the ideals of categorization, breaking all sort of gender identification. The garments, are an extension of the human body; with many different ties and complications that sometimes are created or initiated by outside sources. The muse of the collection is all around me, from own personal identities hidden underneath layers of insecurities, to own interpretations of my peers' identities."
What's next: "I would very much like to do an apprenticeship, work side by side a designer which is conceptual and artistic and learn as many things as I can. I see my life as a series of projects, hence the name of my thesis is THE IDENTÏTY PRØJECT, so I do see me moving, learning and developing as I immerse myself into this industry."
Tina Gancev
Age: 21
Major: Fashion Design, Eveningwear
Inspiration: "I have been inspired by a unique rock that has been kept in my family through generations. The rock, which is a combination of all the colors displayed in the garments, is a composition of four different minerals, sphalerite, pyrite, galenite and calcite. Sphalerite was chosen to represent the name of the collection since it is the main component. The main goal was to bring alive the beauty and uniqueness of the rock as well as elegance. This was achieved with the combination of draping, texture and manipulation of fabrics such as silk organza and sequin. The asymmetrical shape, the colors and the texture were replicated through different techniques and manipulations."
What's next: "After graduation I will be pursuing a master's degree in Luxury and Fashion Management at the Savannah College of Art and Design while working on my next collection."
Zimo Yan
Age: 24
Major: Fashion Design
Inspiration: "This project focuses on exploring a new possibility to express fashion with originally created smart textiles in interactive garments. These garments will express the relationship and commonalities between interactive visual art and fashion to find a way that successfully transfers the inspiration of interactivity to design. They will also experiment with combining the elements of these two fields. These garments work with the principle that the wearer's bodily temperature and behavior is affected by their mood. This garment can respond to the wearer based on their mood and level of movement. It is constructed with different original smart textiles, such as heat-sensitive mohair, which respond to people by changing color."
What's next: "Always keeping creating and exploring new possibility of fashion. Want to find a collaborator to exploring new fashion together."