'Arms' Global Testpunch Tips and Tricks: Hoops basketball mode is here, use these techniques to win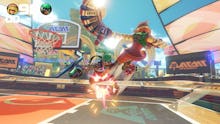 Arms characters on the Nintendo Switch may face off fighting-game style, but there are more modes than simply boxing. The Arms global testpunch is back, and this time includes two new modes. Along with target practice, you'll be able to throw down on the asphalt in the "Hoops" basketball mode. How do you play basketball in Arms, you ask? We have the answers for you.
Arms global testpunch tips and tricks: Grab the enemy's attention
When playing Hoops in Arms, grabbing is the name of the game. To toss your opponent into the hoop, grab them from across the field or even right in front of them. To do so, press both left and right arm buttons simultaneously. If you're using motion control, flick Joy-Con forward to shoot your arms out at your opponent.
The first 10 points wins. To quickly rack up points, however, you'll want to take shots from behind the three-point line.
Stick your Arms character behind the three-point line
Hoops may seem like it's all about dunking, but you can also catapult Arms characters from behind the line, Stephen Curry-style. Make sure your character's feet are behind the white line when you grab the enemy, and they'll be tossed into the hoop. You have a higher likelihood of missing, but when you make the shot, it'll garner three points instead of two.
Three shots from behind the line and one more to seal the deal and you'll take a comfortable lead.
Go out with a bang
Just like during fights, Arms will present fighters with bombs to use during the match. As shown in our Facebook stream of Arms, it's entirely possible to get hit with a bomb and tossed into the hoop. What better way to assert your Arms dominance than by tossing a fake explosive at the enemy? A stellar finish really makes this mode the bomb — pun intended.
Check out more Nintendo Switch news and coverage
Check out more video game content on Mic, including which Pokémon are actually the best and why black players can never seem to get custom characters that look like them. Learn more about how blind gamers are getting in on the fun and that Injustice 2 appears to be nerfing its female characters. See why we love Twintelle (and why we hate Twintelle) in the upcoming Arms, and don't miss our guide to dodging blue shells in the Mario Kart 8 Deluxe — you can thank us later.