Gap celebrates American optimism with new Edward Enninful-directed "Bridging the Gap" film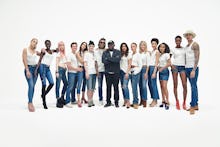 When your name is Edward Enninful, rounding up your A-list friends for a good cause is as simple as picking up the phone and asking. The result: "Bridging the Gap," a short film in partnership with the Gap, directed, cast and styled by Enniful, and starring Christie Brinkley, Priyanka Chopra, Wiz Khalifa, Yara Shahidi and more.
The film's purpose: celebrating American optimism. Timely, eh?
"Most of them are my friends," Enninful, the newly appointed editor in chief of British Vogue, said in an interview. "The brilliant thing about the cast that we have is that half of them, like me, are not from America, but most of them live here and have that same optimistic attitude that I had growing up. Growing up in England and looking to America, and all the incredible images of the Gap by Richard Avedon, I wanted to be in America."
Gap ads remain fashion advertising canon not just because of their playful exuberance, but also their broad roster of talent: Lenny Kravitz, Sarah Jessica Parker, Run DMC and Diana Ross, to name just a few. "It was the first time I can recall seeing ads with people of different ages, races, sexualities," Enninful said, adding: "It really made me want to be a part of this American dream."
Enninful's other goal: celebrating multiculturalism – and its undeniable economic impact. A recent Nielsen report found that 42% of millennials are multicultural (defined as African-American, Asian-American and Hispanic heritage), driving 47% of the total U.S. gross domestic product. According to the same report, this group spends more than $65 billion each year and influences upward of $1 trillion in total consumer spending.
"They are the future," Enninful said of these multicultural millennials. "Things might be bad, but we can make it better if we're all together."
"There are so many gaps in this world that need to be bridged and filled," Priyanka Chopra said in a statement. "The most important one for me is empowering women. Women need to be given an opportunity to stand on their feet and do the best they can for themselves."
"To me, bridging the gap means making diversity more acceptable, by making it okay to look or act different. I do that by being myself," Wiz Khalifa said in a statement.
"I see 'Bridging the Gap' as a statement of mutual humanity and freedom," Christie Brinkley said in a statement. "Freedom for me means not being concerned what others think of or expect from me, but living my life with the intention of making the world a better place for others."
In addition to the aforementioned celebrities, the film also features model and activist Adwoa Aboah, model Maria Borges, champion fencer Miles Chamley-Watson, actor Jonathan Groff, model Fernanda Ly, model Lineisy Montero, model Ellen Rosa, model and Instagram star Jasmine Sanders as well as model and designer Alek Wek.
Check out a behind-the-scenes look at the making of the film: