Trump says he cares about voters in Pittsburgh, not Paris, and Pittsburgh's mayor isn't having it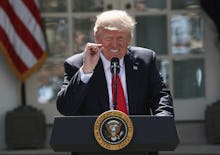 President Donald Trump announced Thursday that the U.S. will withdraw from the Paris climate agreement, saying he is fulfilling a promise he made to represent the "voters of Pittsburgh, not Paris."
But Pittsburgh's mayor, Democrat Bill Peduto, was not OK with Trump's using the city's name to justify the decision, tweeting, "As the Mayor of Pittsburgh, I can assure you that we will follow the guidelines of the Paris agreement for our people our economy and future."
In fact, Pittsburgh is a Democratic stronghold in Pennsylvania. Hillary Clinton won Allegheny County — home to Pittsburgh — with 56% of the vote, in large part thanks to hefty margins out of the city of Pittsburgh itself.
It's something Peduto and others pointed out on Twitter as Trump used the city as an example of why he was removing the U.S. from the climate accord.
"Fact: Hillary Clinton received 80% of the vote in Pittsburgh," Peduto tweeted. "Pittsburgh stands with the world and will follow Paris agreement."
To add insult to injury, the Republican National Committee then tweeted a gif of Trump's "Pittsburgh, not Paris" line that misspelled the city's name.
The RNC later fixed the tweet.