Paris illuminates City Hall in green light in defiance of US pulling out of Paris climate agreement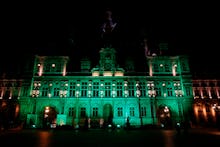 While President Donald Trump just announced the United States would be withdrawing from the Paris climate agreement, the city of Paris has already proved its commitment to it.
Less than an hour after Trump's announcement from the White House Rose Garden, the mayor of Paris, Anne Hidalgo, announced on Twitter that Paris' city hall, Hôtel de Ville, would be illuminated in green to affirm the city's will to implement the agreement.
And so at 10 p.m. Paris time, it was, in a rather stunning display of support.
"In order to fulfill my solemn duty to protect America and its citizens, the United States will withdraw from the Paris climate accord," Trump said in his announcement, noting that the U.S. would immediately re-enter the agreement or an entirely new accord only "on terms that are fair to the U.S."
In addition to the people of Paris, plenty others are concerned about America withdrawing, especially given how the United States accounts for the second-highest share of global carbon emissions, according to the Department of Energy.
Former President Barack Obama immediately issued a statement of his own, writing: "Even in the absence of American leadership ... I'm confident that our states, cities and businesses will step up and do even more to lead the way, and help protect for future generations the one planet we've got."
Indeed, in a place like Paris, it seems people are more than willing to step up and show the world what they believe in when it comes to climate change, and in a rather brilliant fashion too.
They also started a trend: As the sun set in New York City, New York's governor, Andrew Cuomo, announced that the Empire State Building would be lit green, in support of the agreement.
NYC's mayor, Bill de Blasio, then followed, announcing that the city's own City Hall would be green, matching Paris'.