Blue Apron IPO: What to know about buying stock in the meal delivery company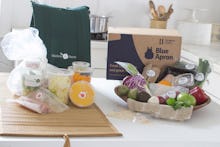 It's looking like a banner year for buzzy startups going public: Meal delivery service Blue Apron has officially filed to sell shares of its company stock, according to a filing Thursday with the Securities and Exchange Commission. This follows the much-hyped IPO of Snapchat-maker Snap, and word spreading that BuzzFeed and Spotify may go public in coming months, too.
Blue Apron, which will trade on the New York Stock Exchange under the ticker symbol APRN, says it plans to raise about $100 million in the IPO, though the final amount could be different. Goldman Sachs, Morgan Stanley, Citigroup, and Barclays are all named as underwriters on the sale.
Initial public offerings are a big deal for a company for a few reasons. For one, it's how the early investors, employees, and even the founders often make their money. Startups are rarely profitable — often, a good part of early-employee and stakeholder compensation is shares in the company. Until the company goes public, that stock is essentially worthless, since it's hard to sell.
On the other hand, IPOs are a way to keep a company going once it has run out of cash. When you sell stock to the public, you take their money in exchange for a portion of your future profits. Some analysts, like Bloomberg View columnist Conor Sen, speculated after looking at Blue Apron's financials that that is what the company is after: It has been burning a lot of cash on marketing, and spent $66 million on podcast advertising alone in 2016.
Then again, the company's revenue has been growing rapidly and has even seen a few profitable quarters, as Marketwatch points out. There are a few other reasons to be bullish on Blue Apron: As TechCrunch reports, it has been getting its costs under control, an important indicator of future success since you can't rely on investors to fuel your growth forever. It's also got a very young customer base, which means lots of room to keep growing.
The company reported more than $795 million in revenues for 2016, up from about $78 million in 2014. Yet losses grew too — about $55 million last year, compared with about $31 million in 2014, per the filing.
And as Yahoo! Finance's Myles Udland points out, the average order value, the number of orders each customer makes, and the amount of money Blue Apron makes off each customer are all trending down. That's not good.
Finally, food companies can have trouble on the open market, particularly ones with strong name recognition. In its SEC filing under "risks," Blue Apron pointed to allergens and food-borne illnesses as potential problems for the company. There's good reason to be concerned about this risk: Chipotle's stock price still hasn't recovered to its pre-2015 (aka pre-Norovirus) levels.
For a deeper explanation of the risks and rewards of IPO investing, read Mic's guide here.
Sign up for The Payoff — your weekly crash course on how to live your best financial life. Additionally, for all your burning money questions, check out Mic's credit, savings, career, investing and health care hubs for more information — that pays off.