'NBA 2K' cover history: We list what teams had the most covers up to Kyrie Irving's '2K18'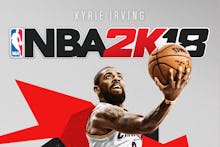 On Thursday, developer 2K announced Cleveland Cavaliers star point guard Kyrie Irving as the cover athlete for the standard edition of the upcoming NBA 2K18. 
Hall of Famer Shaquille O'Neal was previously tapped to be the cover athlete for the Legends Edition when the game is released on Sept. 15 for PlayStation 4, Xbox One, Nintendo Switch and PC.
NBA 2K cover history: What teams have the most cover stars?
Irving joins the Cavs' LeBron James to bring the team's tally to two players from their roster that have been cover athletes, although James was on the cover of NBA 2K14 back when he was with the Miami Heat.
The Cavs begin the 2017 NBA Finals on Thursday night against the Golden State Warriors, who also have a pair of former cover athletes on their roster.
While with the Oklahoma City Thunder, Kevin Durant shared the cover with Derrick Rose and Blake Griffin for NBA 2K13, and he went solo for NBA 2K15.
Steph Curry had one of three collectible covers for NBA 2K16.
Here's a breakdown of the NBA teams with the most former cover athletes on their current roster.
Cleveland Cavaliers
Lebron James (NBA 2K14 with Miami Heat) and Kyrie Irving (NBA 2K18)
Golden State Warriors
Kevin Durant (NBA 2K13 with Oklahoma City Thunder and NBA 2K15) and Stephen Curry (NBA 2K16)
Los Angeles Clippers
Chris Paul (NBA 2K8 with New Orleans Hornets) and Blake Griffin (NBA 2K13)
San Antonio Spurs
Tony Parker (NBA 2K16 in France) and Pau Gasol (NBA 2K16 and NBA 2K17 in Spain)
Free agency and next year's cover announcement could change the standings, but for now, 2K has been riding the real-life hot hand with its cover selection.
This year's choice was timely and appropriate.
More sports gaming news and updates
Love sports games? Check out more content from Mic, including tips for leveling up your NBA 2K17 MyPlayer, playing quarterback in Madden 17, our review of MLB the Show 17 and the classic Nintendo sports games we want to see on the Switch.