Trump administration asks Supreme Court to let travel ban go into effect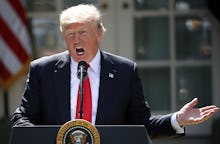 The Trump administration hopes the highest court in the land will allow President Donald Trump's travel ban to go into effect.
On Thursday night, the administration asked the U.S. Supreme Court to look at the legality of the executive order — and to issue a stay allowing it to go into effect before the court comes to a conclusion, CNN reported Thursday.
The revised executive order, a de-facto "Muslim ban" that temporarily forbids entry to the U.S. by citizens of six Muslim-majority nations, struggled to stay afloat in court. In May, a federal appeals court in Richmond, Virginia, blocked enforcement of the ban yet again, saying the order "drips with religious intolerance, animus and discrimination."
The Trump administration is challenging that appeals court ruling and hoping that the Supreme Court, now staffed with Trump pick Justice Neil Gorsuch, will grant a stay and allow the ban to go into effect while it hears the administration's challenge.
In a late-night tweet, the American Civil Liberties Union, one of the legal challengers to the ban, said "We've beat this hateful ban and are ready to do it again."