MIT researchers say Trump misunderstood their climate research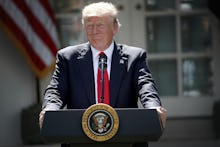 In a White House press conference on Thursday, President Donald Trump announced that the United States would be pulling out of the historic Paris climate agreement, an international commitment to fight the rising threats of climate change, signed by 195 countries.
Trump cited several reasons for leaving the agreement, but one of them was an assertion that the accord would only lead to a negligible reduction in global temperatures. That claim reportedly came from research conducted at MIT, Reuters reported on Friday, citing White House documents. But the MIT researchers behind the data say that Trump gravely misunderstood their findings.
"Even if the Paris agreement were implemented in full, with total compliance from all nations, it is estimated it would only produce a two-tenths of 1 degree Celsius reduction in global temperature by the year 2100," Trump said, addressing the nation from the White House Rose Garden on Thursday. "Tiny, tiny amount."
The April 2016 study that claim reportedly came from actually said that if all the cooperating nations stick to their commitments in the Paris climate agreement, we might see the rise of global temperatures slow "by between 0.6 degree and 1.1 degrees Celsius by 2100," Reuters reported.
And, while that might seem small to a layperson, a reduction of that size is dramatically different from what would happen if no action was taken at all. "If we don't do anything, we might shoot over 5 degrees or more and that would be catastrophic," MIT climate researcher John Reilly told Reuters.
Reilly also told Reuters that no researchers involved in the study were contacted by the White House, and they were not given the chance to explain their findings.