Nintendo Switch Online Service Price: $20 a year to play online and get retro games on the go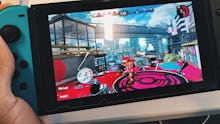 The Nintendo Switch virtual console release date remains unknown. You may be expecting details on a possible virtual console for Switch during the company's E3 2017 festivities later in June. In the meantime, the Nintendo online service has been officially revealed.
Nintendo Switch online service: No virtual console, but a Netflix-like service is coming.
With a Twitter announcement, Nintendo finally revealed what we could expect from their service. The online service will cost $3.99 for one month, $7.99 for three months and $19.99 for an entire year. The service will be free throughout 2017, and Nintendo will charge users of the service starting in 2018.
What do you get for your $20 a year? The online service for Switch allows gamers to play titles like Splatoon 2 and Arms online with others. In addition to multiplayer via the internet, Switch owners gain access to retro games.
It was rumored that Nintendo Switch owners who paid for the service would get a new retro game each month. Not only could gamers play their old favorites, the legacy games would be equipped with online multiplayer.
Thursday's announcement sweetens the deal. According to Kotaku:
Nintendo Switch Online subscribers will have ongoing access to a library of classic games with added online play. Users can play as many of the games as they want, as often as they like, as long as they have an active subscription.
Nintendo Switch online service: Will Nintendo get rid of virtual console in favor of the subscription model?
Nintendo's online service still has drawbacks. There's still a weird smartphone app that will be required for voice chat, though Hori's got you covered on that one.
Access to the Nintendo's game library as a subscription bonus is a great deal compared to competitors' options. Playstation Now, for example, is a similar game streaming service that costs $20 per month — not year — and is separate from the $60-per-year service required to play online.
If done well, the service could prove valuable for Switch owners. Depending on which games come to the service, it could even make the Switch the perfect option for those wanting access to their old favorites from NES, Nintendo 64 and GameCube.
Check out more Nintendo Switch news and coverage
Looking for more Nintendo Switch news? Check out how blind gamers are using the Nintendo Switch and why you can't get your Mii to look quite like you. Nintendo's left Joy-Con issue turns out to be a hardware problem — here's how to solve it. Find out how to buy a console amid the recent restock. Learn why the Switch cartridges taste so bad. Check out our comparison photos sizing up the Switch to the Wii U GamePad (part one and part two), or find out how to make use of ethernet without the dock and the best way to get alerts when new stock arrives.