Google Doodle celebrates Gilbert Baker, rainbow pride flag creator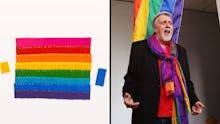 Anyone looking to scour the internet for information via Google today will find a very queer surprise.
Friday's Google Doodle paid tribute to Gilbert Baker, the creator of the LGBTQ pride flag, who died on April 1. Friday, June 2, would have been Gilbert's 66th birthday.
The doodle shows an arts and crafts depiction of the flag being constructed, complete with scissors, strips of fabric and sewing needles.
Baker created the flag at the request of Harvey Milk, the first openly gay politician ever elected to office in the United States. In a video for NBC Out in 2016, Baker explained that he created the flag to represent the "global tribe" of LGBTQ people.
"We needed something that was from us," Baker told NBC Out. "Flags are about power. Flags say something; they're not just symbols." 
He said he chose the rainbow because he needed something that went "beyond words" and expressed the community's great diversity.
The original flag had eight colors, as opposed to the current six. Each color carried a meaning: pink for sex, red for life, orange for healing, yellow for the sun, green for nature, turquoise for art, blue for serenity and purple for spirit. 
Baker never trademarked the flag, according to the New York Times, because it was his "gift to the world."