Wonder Woman's love for ice cream is the DC film's best — and funniest —Easter egg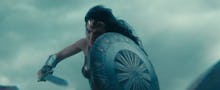 At long last, Wonder Woman has arrived! The latest film in the DC Extended Universe is now playing in theaters nationwide, and it is one hell of a cinematic experience. Directed by Patty Jenkins, with Gal Gadot reprising her role of Diana from Batman v Superman: Dawn of Justice, Wonder Woman wonderfully pays homage to classic superhero movies and a character that has been a mainstay in comics for over 75 years.
[Editor's note: This post may contain Wonder Woman spoilers. Do not continue reading if you don't want to know about some scenes from the film.]
Given Wonder Woman's nearly eight decade history, it is safe to assume that comic book fans will be packing theaters this weekend not only to enjoy a great film, but to see how many Easter eggs they can spot. It is a fun pastime that has essentially become the comic book movie version of Where's Waldo? For example, Marvel's latest film, Guardians of the Galaxy Vol. 2, contains more than a few cool nods to the comics.
Patty Jenkins, though, does not go out of her way to sprinkle a litany of Easter eggs into Wonder Woman. And this is not necessarily a problem, as Wonder Woman is a true origin story, largely removed from the events of prior DC films — it does take place in the early 20th century after all. But that is not to say there are no Easter eggs, and the best of them may very well be a reference to Wonder Woman's love for a tasty treat (you've read the headline — it's ice cream).
We all scream for ice cream!
Wonder Woman's child-like response to ice cream is actually a rather new addition to her mythos. When DC rebooted its universe in 2011 with the New 52 (it has actually already been revamped again with DC Rebirth), writer Geoff Johns wrote a scene in Justice League: Origin in which Wonder Woman tried the treat for the first time.
Not surprisingly, she loved it! After exclaiming that "ice cream is wonderful," she congratulates the vendor, telling him "you should be very proud of this achievement." A nearly identical scene is contained in the animated film, Justice League: War, which is the first movie in DC's shared animated continuity.
In Wonder Woman, Diana is offered an ice cream cone while walking the streets of London with Steve Trevor. Wonder Woman takes one taste and let's just say she's hooked. Much like in Justice League: Origin, Diana tells the vendor how proud he should be of his mastery of the craft. It may be a throw-away scene, but it is funny, and nicely illustrates how Wonder Woman is in a fish-out-of-water situation.
Are there more?
Wonder Woman contains a few more Easter eggs, but there really are not many. Another cool one for genre fans is a nod to Richard Donner's classic Superman: The Movie, arguably the greatest film to ever feature the Man of Steel. In Superman, Clark Kent saves Lois Lane in an ally by stopping an incoming bullet with his bare hands.
In Wonder Woman, Trevor (who has always been Wonder Woman's Lois Lane), heads into a London ally with Diana. They are soon cornered by armed German spies. One takes a shot at Trevor, but Diana quickly holds out her arm, ricocheting the bullet safely into Trevor's hand (well, it burns him).
In many ways, Wonder Woman felt a lot like Superman, and this quick scene was the perfect nod to a classic.
Those hoping to catch a few more Easter eggs should head to the theater this weekend, and keep their eyes wide open!
Mic has ongoing coverage of Wonder Woman. Please follow our main Wonder Woman hub here.