Somebody stole a Portland MAX stabbing victim's wedding ring and backpack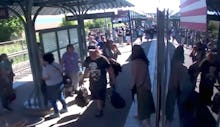 A week after two men were fatally stabbed on a Portland, Oregon, MAX train for standing up to a white supremacist who was harassing two teenage girls, police have arrested a man suspected of stealing the wedding ring and backpack belonging to one of the victims.
In surveillance footage uploaded to YouTube by the Portland Police Bureau Thursday, a white man with long hair, black shorts and a black baseball cap is seen exiting the train car shortly after the stabbing carrying two backpacks, one of which allegedly belongs to Ricky John Best, a 53-year-old Army veteran and father of four who was killed in the May 26 attack.
"The backpack and wedding ring belong to victim Ricky Best," the Portland police said in a release. "The contents of the backpack include personal items important to the Best family."
You can watch the 17-second surveillance video below:
The alleged theft casts yet another grim shadow over one of the more disturbing crimes to hit Portland in recent months. Jeremy Joseph Christian, 35, was arrested May 26 shortly after allegedly stabbing three men and killing two of them.
The confrontation reportedly began when Christian started verbally harassing two teenage girls — one of whom was wearing a hijab — and lobbing anti-Muslim slurs at them on a MAX train in Portland. Three men intervened to stop him: Ricky Best, Taliesin Myrddin Namkai Meche and Micah David-Cole Fletcher. Christian responded by slashing their throats. Best and Meche were both killed, while Fletcher survived.
Prior to the attack, Christian had been filmed and photographed giving a Nazi salute and shouting "Die Muslims!" in a Burger King parking lot, according to Oregon Live. His Facebook history was peppered with white supremacist diatribes and statements sympathetic to Adolf Hitler and Oklahoma City bomber Timothy McVeigh.
In his first court appearance Tuesday, Christian shouted, "Free speech or die, Portland! You got no right to a safe space!"
June 2, 2017, 10:46 a.m.: This story has been updated.