Here's how the rest of the world reacted to Trump pulling out of the Paris agreement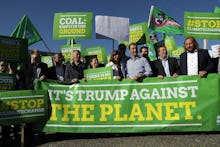 The Friday cover of Germany's Berliner-Kurier newspaper wasn't aiming for subtlety.
"Earth to Trump: Fuck you!" the headline blared.
In the wake of President Donald Trump's Thursday announcement that the United States will withdraw from the historic 2015 Paris climate accord, much of the world reacted with shock and abject horror.
Elsewhere in Germany, newspaper Der Spiegel revived the cover it ran after Trump's surprise victory in the November 2016 presidential election. His head, depicted as a giant asteroid on a collision course with the Earth, appears above copy that reads, "It's the end of the world (as we know it)."
"America first! Earth last!" the paper tweeted alongside the cover art on Thursday.
The text echoed remarks Trump delivered from the White House Rose Garden on Thursday, in which he doubled down on the America-first ideology that helped to get him elected in an effort to justify his decision to exit the agreement forged among nearly 200 nations.
"I was elected to represent the citizens of Pittsburgh, not Paris," he said.
Another daily newspaper — France's Libération — went an even more fatalistic route with its Friday cover, which simply read, "Goodbye America," over a dark smudge of oil.
Elsewhere in the world, bright luminary displays were lit in a show of solidarity with the Paris agreement.
In Mexico City, the Angel of Independence monument glowed green on Thursday night in support of global efforts to reduce carbon emissions.
Across the U.S. and into Canada, landmarks were lit emerald in a similar fashion.
And outside of City Hall in Paris, where the historic agreement was reached, green lights were also on full display.