Trump White House has not declared an LGBT Pride Month this June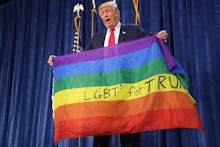 The White House is looking a little colorless this June.
Two days into LGBT Pride Month, Donald Trump's White House has not yet declared June to be LGBT Pride Month. Scrolling through the White House's press releases confirms the omission.
For the past eight years, former President Barack Obama declared June to be LGBT Pride Month. According to the 2016 announcement, he made the declaration on May 31. As of Friday, that puts Trump two days behind Obama's schedule.
LGBT Pride Month began in June 1999 as "Gay and Lesbian Pride Month," declared by then-President Bill Clinton. After the initial declaration, President George W. Bush, who rallied against marriage equality, did not continue the tradition. Obama's White House declared June to be LGBT Pride Month every year of his presidency, from 2009 to 2016.
Obama's declaration of pride month also included White House receptions hosting prominent members of the LGBTQ community.
In a statement circulating on Twitter, House Minority Leader Nancy Pelosi honored LGBT Pride Month while also highlighting some of the ways in which Trump's White House has slighted the LGBTQ community, including proposing cuts to HIV prevention and treatment, declining to count LGBTQ people in the census and rescinding Obama's Title IX directive telling schools to allow transgender students to use the restroom of their choice.
LGBTQ media advocacy organization GLAAD slammed Trump's "silence" in a press release. The group pointed out that Trump declared June to be "Great Outdoors Month," "National Ocean Month" and "National Homeownership Month" with no mention of the LGBTQ community.
"This silence halts an eight-year precedent set by President Barack Obama in honoring the achievements of LGBTQ Americans," the statement reads.
The only Trump to shout out the LGBTQ community is Ivanka Trump, who issued two tweets Thursday in honor of LGBTQ people, one observing pride and another thanking LGBTQ people for their "contributions to our society and economy."
Several people on Twitter called out Trump's oversight.
Given Bush's decision not to declare LGBT Pride Month, Trump's decision can be read as either discontinuing a White House tradition or discontinuing a Democratic White House tradition. However, Trump openly courted LGBTQ voters during his campaign.
Though Trump touted his support for the LGBTQ community during his presidential run, many remained skeptical. When Trump told people to #AskTheGays how they felt about him, the queer community answered en masse — and it was not positive.
One of Trump's most prominent LGBT supporters, Caitlyn Jenner, even came out against him after his Title IX decision.
Of course, LGBT Pride Month is not over — Trump still has 28 days to meet the deadline.
This is not the first time Trump's observance of an awareness day has been met with criticism. In January, Trump's White House drew the ire of the Jewish community when his statement on International Holocaust Remembrance Day did not include any reference to Jewish people. When Trump unironically declared April to be National Sexual Assault Awareness Month, many people were quick to point out that the president faces numerous sexual assault allegations and had previously bragged about grabbing women by the genitals.
The White House did not immediately reply to Mic's request for comment.