'Need for Speed Payback' Release Date: Long-running racing game series returns this November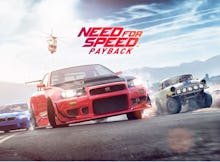 If you helped Fate of the Furious become one of the highest grossing movies of all time in April, you might be wondering why there isn't a great video game to go along with it. Luckily for all of us, it sounds like EA is trying to give us just that with this year's Need for Speed game.
Need for Speed Payback announced for Xbox One, PS4 and PC
Need for Speed Payback is the latest in the long-running gearhead fantasy series, this time taking place in the illegal underground racing scene of Fortune Valley. You'll do a bunch of racing events as Tyler, Mac and Jess as they try to win the respect of the lawless racing circuit, as one does.
According to EA's press release, the game features "intense heist missions, high-stakes car battles, epic cop pursuits and jaw-dropping set pieces" across a "gripping story of betrayal and revenge." It's set in an open world where you can build and customize cars to your liking, similar to previous games in the series.
All in all, it's a Need for Speed game. It looks like it has normal video game cut scenes rather than the silly live-action cut scenes EA has used in the series before. In a world where we never got a great Fast and Furious video game, this will have to do.
Need for Speed: Payback launches on PS4, Xbox One and PC on November 10.
More video game news and coverage
Check out more video game content on Mic, including which Pokémon are actually the best and why black players can never seem to get custom characters that look like them. Learn more about how blind gamers are getting in on the fun and why Injustice 2 is nerfing its female characters. See why we love Twintelle (and why we hate Twintelle) in the upcoming Arms, and don't miss our guide to dodging blue shells in the Mario Kart 8 Deluxe — you can thank us later.