Do brands support Puerto Rican Day parade after Oscar López Rivera's exit? Here's a running list.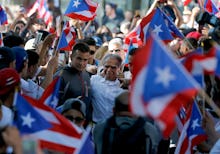 On Thursday, newly freed Puerto Rican independence activist Oscar López Rivera announced he would not officially participate in the city's Puerto Rican Day parade, according to the New York Post. The announcement follows reports that several brands dropped their sponsorship of the parade.
López Rivera was sentenced to 55 years in prison for "seditious conspiracy," among other charges, for his leadership role in the Armed Forces of National Liberation, which was responsible for more than 100 U.S. bombings. He served 35 years before former President Barack Obama commuted his sentence in 2017.
"I will be on Fifth Avenue not as your honoree, but as a humble Puerto Rican and grandfather who at 74 continues to be committed to helping raise awareness about the fiscal, health care and human rights crisis Puerto Rico is facing at this historic juncture," López Rivera wrote in an op-ed published by the New York Daily News.
New York Mayor Bill de Blasio applauded the move.
"Oscar López Rivera agreeing to step aside from any formal role in the parade is a critical step forward in refocusing our city's attention on the more important issues facing Puerto Rico," the mayor said in a statement to the Post.
Several brands pulled sponsorship for the parade when it was announced López Rivera would be honored. JetBlue, AT&T and Coca-Cola were among some of the biggest names to withdraw support. Several organizations, like the NYPD Hispanic Society and the FDNY Hispanic Society, also announced they would not march in the parade.
Mic reached out to several brands and organizations to ascertain whether their stances changed after Rivera's decision.
A running list of how brands responded to Mic's inquiry
• Goya Foods said in a statement they would not participate in the 2017 parade.
• In an email, AT&T said "[doesn't] have anything new to share" about its decision to pull sponsorship.
• In an email, the FDNY Hispanic Society confirmed it is "staying with the decision not to march in this years Puerto Rican day parade, in solidarity with NYPD."
This post will be updated.