'League of Legends' Patch 7.12: Everything you need to know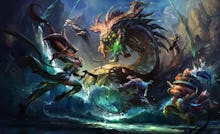 League of Legends has a new update — patch 7.12 — just around the corner — with content that is currently in the public beta environment. If the patch goes live as is, there will be quite a few changes.
From a few hero balance changes, to some item balance changes and with the inclusion of some long rumored skins , there's a lot going on in League of Legends patch 7.12
League of Legends patch 7.12: Everything you need to know
Here are some of the big hero balance changes, according to PCGamesN:
Karma - Nerfed
Inspire (E)
• Shield decreased to 70/95/120/145/170 from 70/100/130/150/160/190
Mantra Bonus - Defiance (R+E)
• Percent of original shield given to nearby allies decreased to 30% from 50%
Singed - Changed
Poison Trail (Q)
• Total damage changed to 45-125 from 44-140
• AP ratio increased to 80% from 60%
Fling (E)
• Mana cost decreased to 70/85/100/115/130 from 100/110/120/130/140
• Percent of Target Max Health as magic damage changed to 6% at all ranks from 6/6.5/7/7.5/8%
• Now scales [2% per 100 AP]
Insanity Potion (R)
• Mana cost decreased to 100 at all ranks from 150
• Stat bonus changed to 30/60/90 from 35/50/80
• Stat bonus duration changed to 15/20/25 seconds from 25 at all ranks
• New: Poison Trail's cloud duration is also doubled.
Zeke's Harbinger - Reworked!
Total cost: 2400g
• Recipe: Glacial Shroud + Aegis + 400g
Stats:
• 60 armor
• 30 magic resist
• 250 mana
• 10% cooldown reduction
Unique Active: Conduit: Bind to target ally (0 second cooldown)
Unique Passive: Casting your ultimate near your ally summons a local frost storm for 10 seconds. As the storm rages, nearby enemies are slowed by 20% and your ally's attacks burn their targets for 60% bonus magic damage over 2 seconds (45 second cooldown)
• Frostfire Covenant: Attacking a burning enemy ignites your frost storm for 3 seconds, searing enemies inside for 50 magic damage per second and increasing the slow to 40%.
The other popular addition is the new Dawnbringer and Nightbringer skins for Riven and Yasuo respectively.
Obviously, keep in mind that in the PBE, anything can change. Some of this stuff might never see the light of day when patch 7.12 actually arrives.
More gaming news and updates
Check out more video game content on Mic, including which Pokémon are actually the best and why black players can never seem to get custom characters that look like them. Learn more about how blind gamers are getting in on the fun and don't miss our guide to dodging blue shells in Mario Kart 8 Deluxe — you can thank us later.