'Red Dead Redemption 2' Gameplay: New game may feature more microtransactions than 'GTA 5'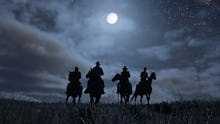 Rockstar has made an absurd amount of money from Grand Theft Auto V's online mode — Grand Theft Auto is incredibly popular and people like to play it with their friends online. It stands to reason that Rockstar's next game, Red Dead Redemption 2, will follow a similar model.
Red Dead Redemption 2 might have more microtransactions than GTA Online
This comes from GameRant, who compiled some quotes from Strauss Zelnick, the CEO of Rockstar parent company Take-Two, about the success of the microtransactions in GTA Online. The takeaway is that Take-Two can "do more" to get money out of players without becoming exploitative.
That might be bad news if you feel that GTA Online already has too many microtransactions. You can exchange real money for GTA bucks in order to expand your criminal empire, buy sick cars or load up on weaponry. That is, in current parlance, a "pay-to-win" model, which might turn players off.
Rockstar is promising a "brand new online multiplayer experience" on Red Dead Redemption 2's official website, but specific details about what that entails are unknown. Since GTA Online is such a massive success, it's safe to assume the new game will be some Wild West version of the Grand Theft Auto model. Thanks to Zelnick's quotes, now we know you might be able to spend real money on horse accessories or fashionable spurs.
More video game news and coverage
Check out more video game content on Mic. Including which Pokémon are actually the best and why black players can never seem to get custom characters that look like them. Learn more about how blind gamers are getting in on the fun and why Injustice 2 is nerfing its female characters. See why we love Twintelle (and why we hate Twintelle) in the upcoming Arms, and don't miss our guide to dodging blue shells in the Mario Kart 8 Deluxe — you can thank us later.