'Pokémon Go' June Event: Second London advertisement in two days without update from Niantic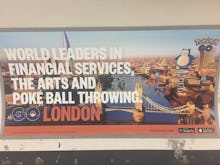 Niantic's love for cryptic Pokémon Go hints is legendary. Whether it's dropping clues about upcoming events in awards speeches or talking about new updates in foreign magazines like Wired Germany and O Globo, it's safe to say Niantic has a flair for this sort of thing. And the Pokémon community's penchant for hypothesizing about new events is even more fuel for the hype fire.
So when not one, but two giant posters for Pokémon Go showed up in the London Underground, you'd expect speculation to be in high gear. But for once in the game's life cycle, no one seems to have a theory. What's going on?
Pokémon Go June event: Most players don't really believe they're signaling a new event
In a post on the Silph Road, a user named arthurmauk posted a photo of a giant advertisement for the game, the second ad on the London Underground in two days.
The thread itself was full of common jokes about Pokémon Go, like the fact that Team Instinct was once again neglected in the advertising and a reference to the Pokémon Shuckle — inexplicably a favorite innuendo to make on the subreddit.
Although several users expressed excitement about the ads, for once there was a comparative lack of speculation about what these ads mean.
There are a few reasons for this. First, this is the second ad of this type to appear in the Underground since Thursday, and posters on the Silph Road had previously agreed the ads were probably made in a partnership with London Go — a new transit campaign for the city. These are likely general ads, not intended for people who were already playing the game.
Pokémon Go fans already have a lot to look forward to. Niantic promised a legendary summer at the Webbys, and vice president of strategic partnerships Mathieu de Fayet also made it seem like a gym overhaul and PvP might be in the works during her interview with Brazilian newspaper O Globo.
The lack of speculation might just be a case of Silph Road users not needing to make their own fun, since there are several big events potentially on the horizon. Who knows if we'll see another small event before this "legendary summer," but for now, it that fans don't really see any reason to speculate.
More Pokémon Go news and coverage
If you're just booting up your Pokémon Go account, check out our first impressions of the Gen 2 update. You'll also want to learn more about the Unown and new evolutionary items like the Sun Stone and more. If you're looking for a list of evolutions that weren't initially revealed by Niantic, this article is your guide.
If you're more interested in the main games, here's the latest on a possible Pokémon title on the Nintendo Switch: Pokémon Stars. And if you're itching to learn about the other mobile Nintendo games, check out our coverage of Fire Emblem Heroes and Super Mario Run.