Xbox Scorpio Specs: New processor revealed in Twitter photo — still no release date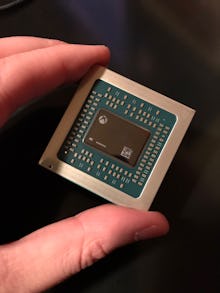 We're just a couple weeks away from Microsoft's E3 briefing, where they will show off Project Scorpio. The beefed-up Xbox One will theoretically blow the PS4 Pro out of the water in terms of technical specs, with built-in VR and 4K support. We still don't know the console's real name or what it looks like, but we've seen another small (but important) part of it.
Xbox Scorpio: Corporate VP tweets photo of the CPU
Mike Ybarra, corporate vice president of Xbox program management, tweeted a picture of Project Scorpio's central processing unit Wednesday.
In layman's terms, the CPU is the little chip that will make Project Scorpio actually play video games and do other fun stuff. You kinda need one of those. It's not a big, shocking reveal or anything, but it's fun to see a picture of the little guy that will make everything work.
Project Scorpio is set for a fall 2017 release, but we don't know how much it costs, what it looks like or what its real name will be. "Project Scorpio" is a code name, after all. It won't be long now before we get answers to some (if not all) of those questions.
More video game news and coverage
Check out more video game content on Mic, including which Pokémon are actually the best and why black players can never seem to get custom characters that look like them. Learn more about how blind gamers are getting in on the fun and why Injustice 2 is nerfing its female characters. See why we love Twintelle (and why we hate Twintelle) in the upcoming Arms, and don't miss our guide to dodging blue shells in the Mario Kart 8 Deluxe — you can thank us later.