Kathy Griffin press conference on Trump photo: "I don't think I'll have a career after this."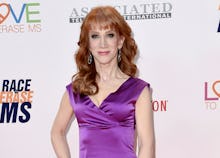 Kathy Griffin made a powerful statement about misogyny, free speech and abuse of power in a press conference Friday about her photo shoot in which she held a bloody facsimile of President Donald Trump's head.
Civil rights attorney Lisa Bloom, with Griffin by her side, said the photo shoot was a parody of Trump's past description of Megyn Kelly having "blood coming out of her eyes, blood coming out of her wherever."
Bloom stressed Griffin's support of U.S. troops and longstanding advocacy for women and LGBTQ communities. She added that male artists like Marilyn Manson had simulated beheading Trump but had not drawn widespread criticism.
Griffin herself added she is "not afraid of Donald Trump" and that she "shouldn't have to die" for criticizing the president. She alluded to "specific" death threats she has received over the photos and stressed there has never been a sitting U.S. president who actively tried to undermine a comedian's reputation.
Griffin teared up while delivering the remarks, which streamed live on TMZ, and added, "I don't think I'll have a career after this."
Griffin's photo shoot — a collaboration with controversial artist Tyler Shields — drew immediate criticism. Squatty Potty, which had previously announced a partnership with Griffin, announced Wednesday it had dropped her as a spokeswoman. CNN also fired Griffin on Wednesday from its annual special New Year's Eve Live, which she has cohosted for 10 years. As of Friday morning, at least five venues had canceled upcoming appearances with Griffin.
On Thursday, Bloom announced on Twitter she was representing Griffin and that Griffin would reveal "the true motivation behind the image" Friday and "respond to the bullying from the Trump family she has endured."
Even the Secret Service chimed in, suggesting that Griffin and Shields were under investigation for threatening the president.