'ESO Morrowind' Review Roundup: Critics are enjoying the nostalgic 'Elder Scrolls' throwback so far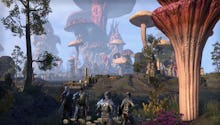 Come Tuesday, you can return to one of Bethesda's most iconic worlds in The Elder Scrolls Online's "Morrowind" expansion. The setting of The Elder Scrolls III has been rebuilt and repurposed for MMO questing on PS4, PC and Xbox One. According to critics, it's worth your time if you loved the original trek to Morrowind, even if you don't care for The Elder Scrolls Online.
ESO Morrowind reviews: The Elder Scrolls Online's return to Morrowind is a successful one
Critics have been playing The Elder Scrolls Online's Morrowind expansion in closed beta form for a while, giving them enough time to formulate thoughts on how well it captures the essence of the 2002 classic. Rock Paper Shotgun's Alec Meer approached it with skepticism, as someone who didn't feel the genre trappings of a massively multiplayer online game could hold a candle to the vast mystery of Morrowind. Despite that, he's enjoyed it.
Weaponized nostalgia. ESO: Morrowind is that incarnate. Its primary purpose is to reel in people like me. I know what it's doing, I'm not entirely comfortable with it because I don't want to be PC games' equivalent of a Q reader, but by God it's working.
Nostalgia can't be the only thing driving a game, though. The part where you actually play it has to be at least acceptable to make it worth the effort. Luckily, that side of the game pulls its own weight, according to Harry Shepherd over at Trusted Reviews. After a rough launch in 2014, he said The Elder Scrolls Online is worth jumping into now.
What's striking about Elder Scrolls Online: Morrowind is how polished the game was for me. I did have occasional connection issues whilst queuing for PvP matches and some textures were very slow to load at times, but overall the expansion looks very promising ahead of its June 6 launch. Ever since 2014, ESO has clearly been one long learning curve for ZeniMax and Bethesda, with the excellent Morrowind the result. With an intriguing narrative holding together a refreshing new class and PvP modes, Morrowind represents an MMO going from strength to strength.
On the other hand, Jonathan Leack at Game Revolution found that the game's combat lacked impact and is a step below other popular MMOs. That said, he's finding the narrative side of the expansion to be quite compelling — which is good, considering it's the driving force behind the other Elder Scrolls games.
ESO: Morrowind hasn't forsaken its roots. I've found myself constantly stumbling upon quest opportunities, most of which are deeply interesting. This proves to be the greatest strength of the expansion, as it delivers dozens of hours of new narrative experiences that take influence from one of the greatest Elder Scrolls games in history.
Overall, it sounds like the Morrowind expansion for The Elder Scrolls Online is worth checking out if you have any reverence for the original game. It seems to be an acceptable facsimile of the Morrowind experience, with the added bonus that you can group up and quest with your friends if you want. It launches Tuesday on PS4, Xbox One and PC.
More video game news and coverage
Check out more video game content on Mic, including which Pokémon are actually the best and why black players can never seem to get custom characters that look like them. Learn more about how blind gamers are getting in on the fun and why Injustice 2 is nerfing its female characters. See why we love Twintelle (and why we hate Twintelle) in the upcoming Arms, and don't miss our guide to dodging blue shells in the Mario Kart 8 Deluxe — you can thank us later.