7 TV shows on Amazon Prime that you're not watching — but should be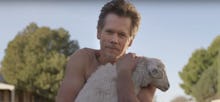 Amazon Prime has earned an impressive tally of Emmys and Golden Globes for its original shows Transparent and Mozart in the Jungle. And the prestige content doesn't stop there. Check out these seven series, including a stellar comedy from Tig Notaro, which have managed to fly under the radar.
1. Z: The Beginning of Everything
This half-hour drama about Zelda Fitzgerald, the boozy, brilliant wife of Great Gatsby author F. Scott Fitzgerald, drummed up a little buzz when it premiered in January. Its first season garnered decent reviews for its witty, complicated portrayal of the Fitzgeralds before finding fame. Z and its star Christina Ricci will return for a second season.
2. Bosch
Did you know that the Man in Black from Lost has his own series? Titus Welliver stars in Bosch as Hieronymus "Harry" Bosch, a Los Angeles detective. The character was originally created by crime fiction novelist Michael Connelly, and as of June there are 24 Hieronymus novels. The thrilling Bosch could theoretically live on far past its fourth season.
3. One Mississippi
Anyone who loved Tig Notaro's hilarious, heartbreaking Netflix documentary Tig — or her career-making 2012 standup bit about her breast cancer diagnosis — will love her new semi-autobiographical series on Amazon Prime. One Mississippi, co-created by Notaro and Juno scribe Diablo Cody, follows a fictional Tig as she returns to her home state of Mississippi after a double mastectomy and her mother's unexpected death. Amazon renewed it for a second season after its premiere in fall 2016.
Bonus: Happy Endings' Casey Wilson costars as Tig's clueless on-and-off girlfriend.
4. The Man in the High Castle
This adaptation of a 1962 Philip K. Dick novel is eerily relevant in 2017. Set in an alternate universe in which Nazis won World War II, this series imagines what the United States would look like if white supremacists gained power. Tense, violent and undemanding, High Castle follows a group of freedom fighters as they resist their corrupt government. Amazon renewed the show for a third season in January.
5. Red Oaks
The AV Club has described Red Oaks, which premiered in 2014, as an "'80s pastiche that beat Stranger Things to the punch." A quiet sitcom about a young amateur filmmaker, Red Oaks stars Jennifer Grey — yep, from the original, not terrible Dirty Dancing — as the supportive "lesbian or at least technically bisexual" mom of Craig Roberts' charming David. Amazon recently renewed it for a third and final season.
6. I Love Dick
Bad Moms star Kathryn Hahn finally has her own series in I Love Dick, in which her infatuation with Kevin Bacon's character transforms her marriage. It's funnier than it sounds, and Hahn lights up the screen. Transparent creator Jill Soloway helms this all female-penned adaptation of Chris Kraus's 1997 novel, and Soloway's humanism and sex positivity are apparent as Hahn's character explores the psychosexual realities of her obsession. The first season premiered in May.
7. Sneaky Pete
Bryan Cranston is in this. That should be enough of a recommendation, but there's also the show's loopy story about a conman who assumes the identity of his former cellmate, Pete, after getting out of prison. The con man, played by Giovanni Ribisi, is able to fool Pete's family since they haven't seen Pete in so long. Again, it's loopy. Amazon renewed it for a second season in January.
Mic has ongoing television coverage. Check out our main TV hub here.