Putin likens US election hacking allegations to "anti-Semitism"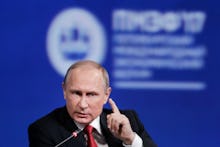 Russian President Vladimir Putin said Friday that U.S. accusations of Russian interference in the 2016 presidential election were akin to "anti-Semitism and blaming the Jews," and described the allegations as "disinformation."
During a panel interview at the St. Petersburg International Economic Forum moderated by NBC News journalist Megyn Kelly, Putin also said that claims of Russian hackers meddling in the election in order to sway it in favor of President Donald Trump amounted to "internal political bickering."
"We didn't do this. Stop this!" he said during the interview.
"There is no specific evidence, no facts, just assumptions, allegations and conclusions based on those allegations nothing more," he added, referring to the accusations as "harmful" and "idle prattle."
During the interview, Putin issued a flat denial to Kelly that Russia had done anything to tamper with election results — but acknowledged that "patriotic" hackers might have been responsible for other, similar attacks on global democracy.
When pressed on what he made of U.S. intelligence officials suggesting that he had personally issued orders for hackers to smear the campaign of Democratic candidate Hillary Clinton, Putin demurred.
"IP addresses can be invented — a child can do that! Your underage daughter could do that," he said to Kelly. "That is not proof."
During the interview, Putin also reaffirmed his skepticism of NATO, calling the institution an "instrument of U.S. foreign policy."
"NATO was established as a Cold War instrument in the fight against the Soviet Union ... there is no longer any ... Soviet Union but NATO is still there. The question is, what for?" he asked Kelly.
Later on Friday, Kelly will sit down with Putin for a one-on-one interview scheduled to air on Sunday night at 7 p.m. Eastern in the U.S.