How one cosmetics brand is paving the way for Latinx representation in the beauty industry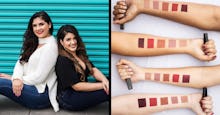 For decades, Latinas have been underserved by the beauty industry. From a lack of diverse foundation colors to advertising catered solely to a Caucasian consumer, it seems as though the beauty industry has flat-out ignored Latinx customers — despite the fact that they're one of the fastest-growing spenders in the industry.
Rather than wait for brands to correct this blatant representation issue, Joanna Rosario and Leslie Valdivia took matters into their own hands. Together they founded Vive Cosmetics, a line of cosmetics created by Latinas for Latinas.
"Vive Cosmetics started as a makeup company by Latinas for Latinas with an idea, a passion and a goal to combine all things beauty and cultura," Rosario told Mic in an interview. "With Vive Cosmetics, we not only want to offer beauty products, but we want to empower the Latinx community to go after their dreams."
Valdivia echoed this sentiment, saying she wanted to celebrate her community and create a line of products that actually related to them.
"Representation is important, especially in the beauty industry, where women are expected to look a certain way," she said. "There is so much diversity within the Latinx community that people need to be aware of, appreciate and celebrate."
Both Rosario and Valdivia have a deep passion for all things beauty, but say, as Latinas, they've never felt represented by any brand. They said they realized the beauty industry doesn't care about the Latinx community, frequently offering tone-deaf campaigns, too-few Latinx models and a lack of diverse skin tone representation.
"Vive Cosmetics was created as a way of recognizing our importance in a world that would rather deny our identities than embrace us," Rosario said. "We need companies that celebrate and honor our different stories, skin tones, languages and origins — and we're all for doing that."
Rosario notes that Latinas have a huge buying power — especially when it comes to the beauty industry. They're an ever-growing consumer community that is being underserved, but Vive Cosmetics plans to fill the gaps in ways other beauty brands have failed to do.
For example, the founders hope Vive Cosmetics helps better represent and bring together the Latinx community by creating a brand that doesn't shy away from diverse representation.
"We want the Latinx community to feel represented by our brand and feel proud to represent a brand by wearing our products," Rosario said. "We want to shine a light on the beautiful cultures all over Latin America and we want our customers to feel proud of their roots."
In addition to having Latina models with different skin tones, Vive Cosmetics celebrates Latinx culture with their vibrant, festive packaging and fun, culturally relevant product names. Our favorite? Vive's sold out "Cafe Con Leche" nude lipstick. ¡Qué linda!
The brand currently offers five different shades of matte liquid lipstick, each of which is cruelty-free, vegan, waterproof, smear-proof and "beso-proof." Rosario and Valdivia plan to expand their makeup line to include a full range of products in the future.
In addition to being a brand celebrating Latinx roots, Vive Cosmetics is dedicated to giving back to the community. Twenty-five cents from every unit sold will be donated to organizations that empower the Latinx community across the United States and Latin America.
Rosario and Valdivia haven't picked specific charities yet.
"We really want this to be highly customer involved," Rosario said. "[We] ask our  customers to nominate organizations they feel passionate about." 
Although the brand was only launched a few weeks ago, Rosario and Valdivia say the reception has been outstanding.
"We have felt overwhelming support," Rosario said. "It really proves to us that a brand like this was greatly needed by our community, and it's finally here."