These are the books your favorite celebrities are reading this summer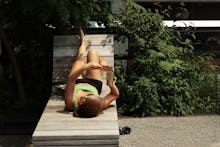 Reading is a pastime that will always be synonymous with summer, as longer days and rising temperatures allow for more time to dig into a good story. Whether you're grabbing a book to enjoy while you're surrounded by nature at the park, listening to crashing waves at the beach or sunbathing on a rooftop, reading is the perfect way to slow things down — especially when you need to unplug from the fast-paced digital world.
As some of the biggest stars in music and entertainment take time to catch up on their reading this summer, they've begun sharing the titles they're currently exploring. Here's a list of books your favorite celebs are reading.
Emma Roberts
Former Scream Queens star Emma Roberts is reading Abandon Me, Melissa Febos' essay collection about childhood, love and identity.
Hilary Duff
Younger actress Hilary Duff is currently skimming The Little Book of Hygge: Danish Secrets to Happy Living by Meik Wiking.
Courtney Love
Party Girls Die in Pearls: An Oxford Girl Mystery by Plum Sykes, is Courtney Love's current book obsession she can't put down.
Yara Shahidi
Yara Shahidi of Black-ish fame is studying her James Baldwin — specifically, his 1956 novel Giovanni's Room.
Constance Wu
Fresh Off the Boat actress Constance Wu was proud to show off her advance copy of Kevin Kwan's Rich People Problems. This is perfect timing, as the actress is filming and starring in the film adaptation of Kwan's Crazy Rich Asians.
Aaron Paul
The former Breaking Bad star captured a serene moment while camping out with a book of poems by Mary Oliver.
Lucy Hale
Lucy Hale is looking forward to reading the memoir Odd Birds by friend and Pretty Little Liars costar Ian Harding.
Carice Van Houten
Game of Thrones actress Carice Van Houten is teaching her son about a famous Australian city with children's picture book Melbourne by Michael McMahon.
Katy Perry
Katy Perry is facing her fears by reading For Today and Tomorrow: Daily Encouragement by Daisaku Ikeda.
Kelly Clarkson
William McDonough's Cradle to Cradle focuses on thinking more deeply about making sustainable products in the future — and Kelly Clarkson is getting a leg up on this green information.
Melissa McCarthy
Melissa McCarthy's recent Saturday read was husband Ben Falcone's book, Being a Dad Is Weird, in which the writer and director of The Boss and Tammy gives an inside look at raising a family with his wife — who also happens to have penned the book's foreword.
Melissa Rauch
In Girling Up: How to Be Strong, Smart and Spectacular, Mayim Bialik puts her neuroscience knowledge to work in a coming-of-age manual for girls. Bialik's Big Bang Theory costar Melissa Rauch is currently reading the "fantastic book" and wishing she had it during her own childhood.
Orlando Bloom
Orlando Bloom shared his moment of enlightenment with a standout passage of Buddhism Day by Day: Wisdom for Modern Life by Buddhist philosopher Daisaku Ikeda.
Rosario Dawson
Rosario Dawson is sharpening her soft skills of "empathy, collaboration, authenticity and freedom" with Nonviolent Communication: A Language of Life by Marshall B. Rosenberg, Ph.D.
Rowan Blanchard
Rowan Blanchard passed Maggie Nelson's The Argonauts on to actress Brie Larson after reading the memoir exploring love, motherhood and sexual identity.
Reese Witherspoon
Reese Witherspoon, queen of her own book club, shared on Instagram one of her recent reads: the novel Eleanor Oliphant is Completely Fine by Gail Honeyman.
Emmy Rossum
Emmy Rossum was inspired by Sheryl Sandberg and Adam Grant's Option B, in which Sandberg opens up about her grieving process after the 2015 death of husband Dave Goldberg. The book also explores how people find meaning in their lives after their loved ones pass away.
Mindy Kaling
Mindy Kaling was in full-on vacation mode in May with a straw hat, sunglasses and, of course, a good book selection. Here she's spotted with Into the Water, a psychological suspense novel by Paula Hawkins.
Brie Larson
Readers who love to indulge in several titles at once can definitely relate to Brie Larson's strong reading appetite. Photographed above are the following books from the Oscar winner's bookshelf: Strong Is the New Pretty, a photo book by Kate T. Parker; Milagros: Votive Offerings from the Americas, a historical text by Martha Egan; The Rules Do Not Apply, a memoir by Ariel Levy; We Monks and Soldiers, a novel by Lutz Bassmann; and Alchemy of Herbs, a book of natural remedies by Rosalee De La Forêt.
Janelle Monáe
Janelle Monáe stays camera-ready even as she dives into Stephen Marks' Confessions of a Political Hitman.
Mic has ongoing arts coverage. Please follow our main arts hub here.